Interchange Outer East presents the newest addition to our Boronia site – The Laguna Multimedia Library.
For centuries, libraries have acted as the greatest service to communities regardless of their background, abilities and/or socioeconomic status. During these tumultuous times, we have witnessed the need for information and access to literacy as well as the need for digital access have all become even greater.
Since all the libraries have been closed and our participants are deprived of borrowing any materials that can greatly assist towards making this tough isolation period easier we have decided to help. The Knox Hub team, together with IOE staff and some families, worked very hard for the last couple of months to put this program together. We are thrilled at the amount of donations and hope that you will be pleased with our collection so far.
Establishing Laguna
In July of 2020 IOE participant, Sanya and support worker, Yovanna started volunteering for Serbian Social Services and Support Inc. by delivering PPE, medication and groceries to elderly community members. To say thank you SSSS donated a cheque of $200 for us to spend however we chose. We made the decision to use this donation for the common good of the IOE community. This is how the idea of opening a community library came about.
Over the past few months a plethora of members of our community as well as numerous IOE employees, volunteers and families have donated huge amount of various materials and, due to this, our library is becoming quite a spectacle. We have catalogued everything that we have on offer according to their respective media type, genre, classification etc. Many participants and staff are already utilising our services and are very proud of their library cards. This little initiative brought a smile to numerous faces during these challenging times and we are hoping that it will become even more prominent in the years to come.
Laguna and COVID-19
Our Boronia offices are cleaned on a daily basis by a professional cleaning service that has the appropriate training and protective equipment to do this work. All of the staff and participants who enter this building (not more than three are permitted at any time with all precautions taken) adhere to the necessary protocols. Staff and participants wipe internal surfaces, including tabletops, door handles, book drops and computers several times a day. All staff working onsite institute thorough hand-washing, especially when handling books or any shared objects in the library. We are all trained to strictly follow all the necessary protocols to keep everyone safe.
Laguna staff disinfect and quarantine returned items for 72 hours before putting them back on shelves. The quarantine time is designed to eliminate the need for further disinfecting as the virus should no longer live on the surface of those materials. Materials like book jacket covers and DVD cases will be resprayed with a sanitiser spray or be cleaned with alcohol wipes since these surfaces are able to withstand it without any damage. We will also endeavour to make disposable paper covers for books that are not wrapped in polyester or polyethylene. This is because disinfectants and other cleaning solvents can cause water damage and weakened hinges and joints.
Being Part of Laguna
Some of the participants whom we have had the pleasure of supporting for the last couple of months have already received their library cards. Please reach out if you are interested in this program and we will be happy to send you a card! This card is merely a souvenir since it does not have a barcode like the proper library cards do. The card number will be the first four digits of the member's date of birth. If you choose not to use the photo that is already attached to the participant's support file, please provide a photo for the card also. For participants who do not have photo permission we can use any image of their choice.
Laguna library currently operates on Mondays, Thursdays and Fridays from 9am to 3pm. You are welcome to email us a list of the items you want to borrow (1 book, one DVD, one CD at a time for a week). We will place them in a safely sanitised box in the hall at the Boronia site for collection. We will continue this process as a precaution of reducing the number of people entering the facility as long as the current restrictions are in place. You will be returning the items in the same way using the returns box. If you live further than the 5km radius from Boronia or Ferntree Gully please get in touch. We can work together to ensure you can still participate.
Laguna's Collection
We can't thank everyone enough for the help. We have had generous donations from Casey, Cardinia, Greater Dandenong, Boronia and Ferntree Gully to support this project. The library is growing by the day! At this very moment we have on offer more than 600 DVDs, 300 books of varying genres, art and craft materials, 60 vinyl records, 150 CDs, VHS tapes, magazines as well as an abundance of board games. Most importantly, the biggest gratitude goes to our special group of participants. They have believed in this project and participated hands on and enthusiastically at all times. Thank you in advance for your support with our new initiative. We are hopeful that we can continue with the Laguna program after these difficult times are well behind us.
– By Yovanna Vukovic, Adult Services Site Staff
Laguna Library – Parent Feedback
Adam has been visiting our Laguna Library regularly since its opening in August. The library has played an integral part in his well-being. Laguna provides essential social integration and has a wonderful community feeling. Yovanna makes individuals feel very special and there is wide range of DVDs, books and magazines. Using unique library cards gives a sense of pride and ownership. A lovely "safe spot" to feel a bit normal in these COVID-19 times.
I highly recommend dropping by to borrow an item and have a friendly chat.
– Michelle, IOE Parent 
For all Laguna Library enquiries, please email laguna.library@ioe.org.au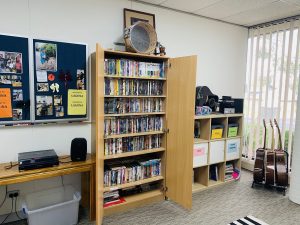 https://www.ioe.org.au/wp-content/uploads/2020/10/post-laguna-library.jpg
321
843
Faye Lougheed
https://www.ioe.org.au/wp-content/uploads/2017/10/new-logo-1-300x170.png
Faye Lougheed
2020-10-15 11:03:44
2020-10-15 11:03:44
INTRODUCING LAGUNA LIBRARY