Attending the Viva La Dance medal day was the highlight of my week!
We arrived at the dance school in Bayswater North where twelve young adults from the Interchange Outer East Boronia and Lilydale groups, and their families, support workers and friends were seated. Tina, the dance teacher, briefed us all on the format for the afternoon. Each student would perform two dances with Tina. Then the audience would have the opportunity to join the participants for a couple of whole-group dances. Afterwards, there was a medal presentation and afternoon tea.
The afternoon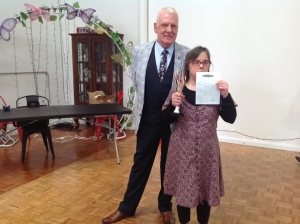 was uplifting from the start. Some of the participants were excited, some were nervous and others were really keen to be next to dance. All around me during their dances were a sea of smiling faces and laughter. There were quirky hilarious comments from some participants, fierce concentration by others and huge smiles when they finished.
The young adults did an amazing job; each dancing to their ability. It was obvious that Tina was a kind and encouraging teacher who knew her students well. She gave gentle prompts if needed, relaxing those that were nervous and enjoying the pleasure the participants had of their accomplishments.
At the conclusion of the individual dances, the whole group were asked to partner up. Tina demonstrated the first dance moves and from what I saw, we weren't very good!  It certainly made us all realise how amazing the students were for their individual dances. We finished with 'Walking On Sunshine' which was lots of fun.
Then onto the medal presentation and we all had a chance to take photographs. Thanks to the judge for his kind comments on the certificate presented to each participant with their trophy.
It was a great afternoon, Tina. Thanks for all your hard work and for the amazing afternoon tea!
– Robin McRae, Parent
https://www.ioe.org.au/wp-content/uploads/2022/09/post-viva-la-dance.jpg
321
843
faye
https://www.ioe.org.au/wp-content/uploads/2017/10/new-logo-1-300x170.png
faye
2022-09-12 13:25:33
2022-09-12 13:35:20
VIVA LA DANCE STARS