At the Interchange Outer East Maroondah Hub, the team have been working on a couple of new projects. One of them has been reconnecting participants with their friends now that COVID-19 restrictions have eased. The focus is on creating fun and exciting shared shifts out in the community.
So far, groups of friends have enjoyed activities like bowling, Healesville Sanctuary, among others. But the absolute highlight has been two young adult participants, Ben and Hudson. Their coordinator, Kristel set up a shared shift for them to head to the Melbourne Comedy Festival to see their idol Nat's What I Reckon.
After speaking to both Ben and Hudson's mums, it was obvious to Kristel what huge fans they are of Nat! They have his cookbooks and really enjoyed watching his YouTube cooking videos throughout lockdown. Nat's videos are a must watch; both hilarious and educational but they do come with a language warning!
Kristel was keen to think out of the box to make these shared shifts a little bit more special after so many of our participants and families (like the rest of us!) had struggled through lockdowns and restrictions. She decided to contact Nat to see if he could take a few minutes before his show to meet with Ben and Hudson for a photo.
And she's so glad she did!
Nat not only agreed to meet them for a photo before the show but also gave them unlimited credits at his merchandise store! They got free t-shirts, stubby holders etc. He then invited them backstage after the show so he could sign all the cool stuff they got from the shop! Ben and Hudson were absolutely blown away and super thrilled to have met him.
Their smiles say it all.
On behalf of Ben and Hudson, their families, Kristel and the whole Interchange Outer East team, we are so grateful to Nat for being so generous with his time (and merch!).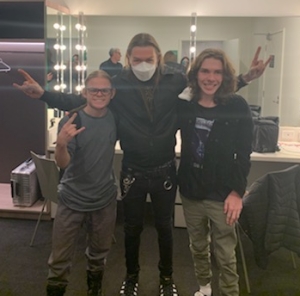 Kindness is free; throw it around like confetti!
https://www.ioe.org.au/wp-content/uploads/2022/04/Post-thank-you-nat.jpg
321
843
faye
https://www.ioe.org.au/wp-content/uploads/2017/10/new-logo-1-300x170.png
faye
2022-04-07 10:06:55
2022-04-07 10:06:55
NAT'S WHAT I RECKON