A key role of the IOE Board of Management is to work with the Chief Executive Officer to set the organisation's strategic direction. After successful transitioning to NDIS over the past two years, the board recognised early in 2020 that is was time to review these strategies for the next phase of development. Together the board began work on the Strategic Plan 2020-2023 project.
The aim was to create a formal, yet easy to understand strategic plan that would outline what IOE will aim to achieve over the next three years and beyond. After a competitive tender process, consulting firm Spark Strategy was chosen to work with IOE to facilitate the planning process with input from all levels of the organisation.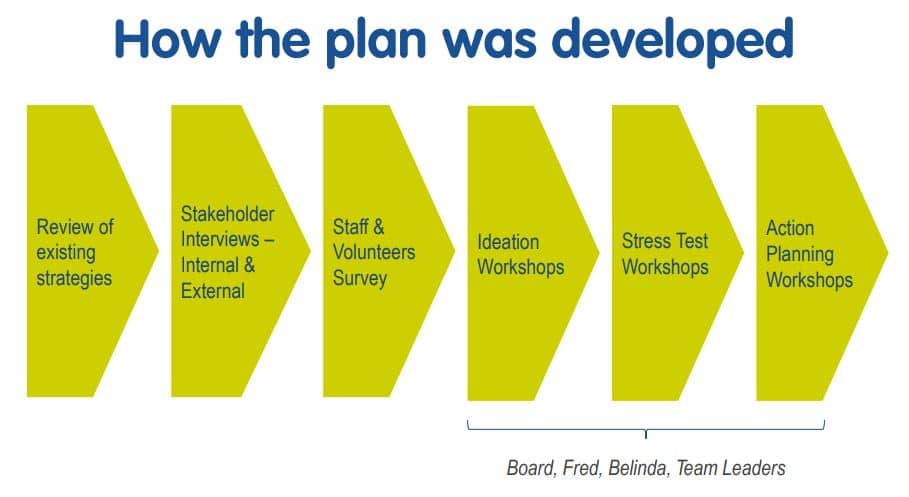 Through a process of review, consultation and discussion, the fundamental statements of the agency were developed and our BELIEFS, PILLARS and PRIORITIES were set out. These will define the agency's activities and development over the coming years.
PILLARS
Listen and Collaborate

We work with the IOE community, not to or for them. Transparency, seeking feedback and ideas, and creating an open, welcoming environment.

Financial Sustainability

We are a for-purpose organisation, not a for-profit one. Yet we need to be financially viable to deliver services, and have the flexibility to innovate and invest, in support of our purpose.

Adapt & Innovate

We try new things, we learn and we move forward. It's about looking for better ways of working, both big and small.
PRIORITIES
Great Team
Increase diversity and inclusion at all levels
Invest in training and learning opportunities for existing and new team members
Develop a mentoring program
Protect our values and culture
Conduct an effective volunteer program that provides a range of options for volunteers to be engaged with the service
Develop a mix of casual and permanent positions based on individual choice and career paths.
Explore initiatives and partnerships with education and services providers to increase recruitment
Highest Quality
Ensure quality is part every member of our team's role
A strong consultative approach with families, individuals and communities so our services are more relevant
Look for continual improvements and innovations in our services
Bolster our digital systems and capabilities, to enable a seamless and efficient service delivery experience.
Explore ways to meaningfully engage with those in our community who we don't often or normally hear from.
Develop and strengthen our hub model.
Invest in our facilities, equipment and environmental sustainability as we grow
Increase Access
Grow current services and develop effective referral pathways to better meet community demand.
Listen to and communicate with all parts of our community so we understand their needs, and so they know about us and what we offer.
Deliver inclusive services that are responsive to cultural diversity, sexuality, and other demographic factors and life experiences.
Develop partnerships with groups or foundations to create and deliver services
Design and trial new services for children and young people with disabilities to address the needs of families and individuals.
Strengthen mutually beneficial collaborations with values-aligned service providers, both in the disability and other sectors.
The IOE Strategic Plan 2020-2023 was completed during the COVID-19 crisis period and was formally handed down, together with the
Annual Report 2019-2020
, at the annual general meeting on Tuesday 24 November 2020. As we come out of COVID-19, having been through one of the toughest challenges we have faced as an agency and a community, the Strategic Plan now paves the way for IOE to evolve and develop into the future.
https://www.ioe.org.au/wp-content/uploads/2020/11/post-strategic-plan.jpg
321
843
Faye Lougheed
https://www.ioe.org.au/wp-content/uploads/2017/10/new-logo-1-300x170.png
Faye Lougheed
2020-11-25 09:56:45
2021-01-22 11:36:09
STRATEGIC PLAN 2020-2023