From 9 to 11 July 2021, Interchange Outer East, Different Journeys, I Can Network and Beyond the Book Therapy Services held their second joint Autism Family Camp. This wasn't your average family camp; it saw autistic camp leaders and volunteers working alongside each other to support families and participants to have the best camp possible. We made many new connections and planted the roots for lots of new friendships.
From watching parents brave up and go on the Circatron to having people go on the giant swing or flying fox for the first time; it was a camp of many firsts! The teens spent much of the weekend upstairs on the Nintendo Switch and this involved a big game of Super Smash Bros, while the under 12s had an awesome sensory space decked out by William Ready. The talent show again proved to show many talents. It also debunked the myth that autistic people aren't creative or don't have a sense humour; there was a lot of both! As always, Fred's bobsled team were the favourite (are they in the Olympics yet??), as well as his rendition of the chicken, turkey and eagle.
Alongside camp activities, we also enjoyed an evening beach walk, many boardgames, trips to the playground, a soccer match, a basketball game, and Kale from Lego Masters came to take over the dining room. With some of the talent and creative pieces on show, it's clear we have a few Lego Masters of our own!
My personal highlight was meeting a young autistic non-binary person, who was so excited to meet someone else like them. It's then I realised just how much impact we have; whether we see it or not. Another cool person I hung out with said I was much more fun than mum to have around! I also taught many lil' humans how to play archery, which I realised wasn't that hard to do; I had just been using the wrong hand the whole time (who knew?!).
When asked at the end of camp if people would come again, the response 'OF COURSE!' rang through the campsite.
Here's to the next Autism Family Camp!
– By Angie Sipka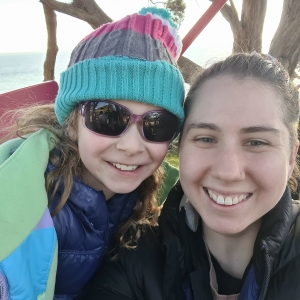 https://www.ioe.org.au/wp-content/uploads/2021/07/afc1.jpg
321
843
faye
https://www.ioe.org.au/wp-content/uploads/2017/10/new-logo-1-300x170.png
faye
2021-07-14 12:53:44
2021-07-14 12:53:44
AUTISM FAMILY CAMP