Youth In Philanthrophy
September 9, 2013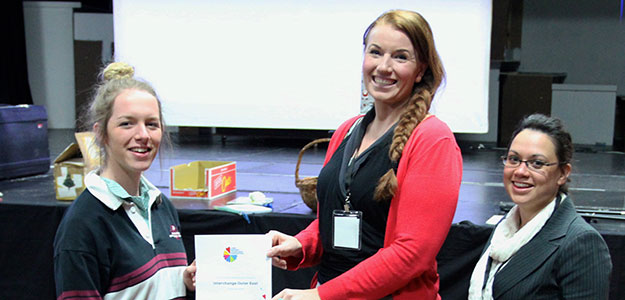 Students from Ringwood Secondary College announced their support of Interchange Outer East's Youth Volunteer Recreation Program at a Year 10 assembly today, 9 September 2013. The support has been made possible through the Lord Mayor's Charitable Foundation Youth in Philanthropy Program .
Six Year 10 students have worked with the Lord Mayor's Charitable  Foundation over a three month period to select  three  projects to fund. The successful charities involved are: Ceres, Berry Street and Interchange Outer East.
Interchange Outer East Volunteer Coordinator, Jess Van Arendonk said, "The students have obviously worked hard collecting information, visiting the charities and making decisions around what projects to support.  They were very impressive and a pleasure to work with."
The presentation was held at Ringwood Secondary College. Students involved in the program spoke about the process and shared a short video before presenting the charity representatives with their certificates. Interchange Outer East was represented at the presentation by Jess and Rebecca Gallaher, IOE Marketing Coordinator.
Rebecca Gallaher said, "The whole program is a wonderful initiative that supports youth to connect with their communities. This morning's presentation was actually great timing, as a fellow student and member of United Youth Media, Jesse Baker, is currently volunteering with a group from Interchange Outer East in America." http://ioeusa2013.weebly.com/index.html
The connection between Interchange Outer East and Ringwood Secondary College continues to build and provide benefits to both students and the community. "It's so important to engage youth meaningfully in the community and this grant will help us do that even further." Rebecca said.
The Lord Mayor's Charitable Foundation established the Youth in Philanthropy Program in 2002, to help young people learn about philanthropy, social awareness and community leadership. The program aims to inspire young people to use their enthusiasm, creativity and energy to begin a life-long commitment to giving, through activities that have a positive impact on the communities in which they live, and will one day work .
The Foundation appoints experienced mentors who guide students through the grant-making process, including assessments of funding applications, interviewing potential grant recipients and making funding recommendations. The program is also designed to facilitate school and student involvement with the Foundation and gain an understanding of current community issues.
Interchange Outer East had applied to the Lord Mayors Charitable Foundation for funding to expand its Youth Recreation Volunteer Program to make it more inclusive of youth from culturally and linguistically diverse backgrounds. By selecting Interchange Outer East as one of its chosen charities, Ringwood Secondary students, have enabled a donation of $6000 to be put towards this Youth Volunteer progam. The funding will enable Interchange to create resources, develop relationships with the local Burmese community and utilise experienced Interchange Outer East volunteers as mentors to new volunteers on camps and day activities.
For more information please contact Jess or Marcelo at Interchange Outer East on 97585522.

Faye Lougheed