Your Story Conference
November 7, 2016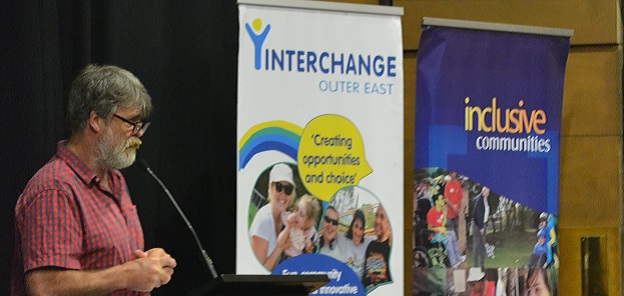 Interchange Outer East hosted its biannual conference on Wednesday 26 October at Burrinja Cultural Centre in Upwey. The theme of the conference was Your Story – a place for families, carers and services who care for someone with a disability to come and connect with their peers and be inspired.
The conference heard first from international keynote speaker Kevin Honeycutt. Kevin spoke about his personal journey from hardship, abuse and poverty to teaching and inspiring 'the lost learner' to find their passion. He talked about ways to encourage young people to learn in the way that suits them best and he gave examples of the incredible things that troubled or disadvantaged young people, despite the perceived challenges, can be capable of.
Yumi Stamet, from National Disability Services spoke about principles of the NDIS and how successful models used in The Netherlands could be applied to our culture and society. It was encouraging to see that a lot of the things that are successful overseas, are principles that Interchange Outer East prioritises; listening and responding to families, empowering frontline workers and working closely with other areas of the local community.
During the breakout sessions after lunch, the Your Story theme really came to life. Attendees heard from parents who have lived, learned and thrived in the face of challenge, grief and loss. Maureen Crawford spoke about her son's diagnosis in the 1970s and her own battle to cope with his needs brought about the birth of Interchange in Victoria. Mandy Hose and Nakisa Malakooti told the group about the struggles they have faced and how they have empowered themselves to be the greatest advocates for their children; helping them achieve what others may have not felt were possible while building successful careers in their own right. This session was empowering for parents and women, showing the audience that as carers, as women and as mothers, we are capable of so much and we are the best advocates for our children.
In the main theatre, a panel of three parents, together with IOE General Manager, Belinda James and the panel facilitator, Linda Rowley, took the audience on a journey of grief, loss and learning. The parents spoke about their own journeys through caring for their child with a disability, through their child's passing and the very personal bereavement process. The panel was generous and brave with their stories, helping the audience understand the process of loss and bereavement and how a disability service can best support families during this time.
The audience was also treated to performances from the Interchange Outer East Adult Services dance and drama groups – including a 'flashmob', much to the MC's surprise!
Interchange Outer East CEO, Fred Brumhead, explained that there is great value in learning from what other people have lived through. "We had a great variety of speakers on the day. Some of our local families shared their stories to inspire and motivate our attendees to write their own stories – as parents, as carers, or as staff developing programs to meet the needs of families," said Mr Brumhead. "If we can learn from people's journeys directly, we as an agency, can continue to support in increasingly meaningful and helpful ways. Moving forward, we will continue to fix our eyes on the needs of our service users," he said.
With the rollout of the NDIS coming in November 2017 to Melbourne's East, Interchange Outer East's focus on family wellbeing and and providing choice for young people with disabilities and their families will remain the same.
Your Story – Conference Slide Show:
Interchange Outer East is grateful to have had the support of Knox City Council for this conference.