Woori Volunteers Recognised
December 7, 2016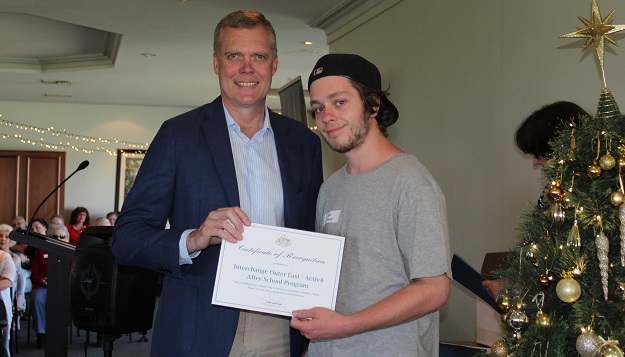 Congratulations to our all our Woori Yallock After School Program volunteers of past and present!
The volunteers of this program received an award from Tony Smith MP – Federal Member for Casey on Saturday at a special morning tea to thank volunteers who have made a valuable contribution to their community. Gareth Metherell received this award on behalf of all the Interchange Outer East volunteers who have put in hours of their time, energy and passion to make this program the great success that it is.
The Woori Yallock After School Program was the first program organised by IOE specifically for families in the Yarra Valley. Since its inception, the support for families in the Yarra valley has grown to the point where we have now established a Yarra Valley Hub office in Yarra Junction and run activities, camps, youth and preschool programs, Sport for Fun, family support dinners and siblings programs. Last week the Yarra Valley Hub ran seven activities in the space of a week, all supported by our amazing volunteers!
On behalf of Interchange Outer East we would like to thank and congratulate all our amazing volunteers. Interchange Outer East is proud to support and mentor our young volunteers as we believe they are what makes our programs unique. We also extend our gratitude to Woori Yallock Primary School for nominating our volunteers for this award and for your support of this program from the very beginning.
By Heather Sayer, Yarraburn Programs Coordinator