Why The Chicken?
June 12, 2013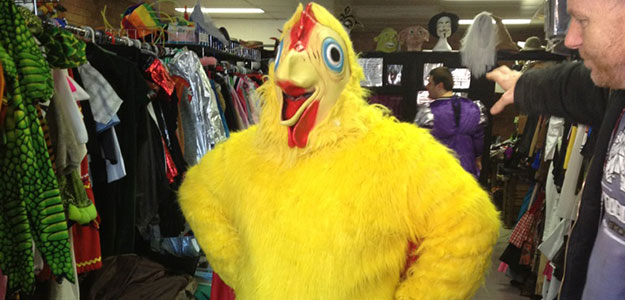 At the start of the Balance year, having one young man dress up in a chicken suit was not where we thought the Community Balance Drama Program would go.
But, after almost two full terms of participating in YourDNA's drama class, run by master mind James, this is where we are at!
For two hours each week, a group of young adults from Balance come together at the class in Ringwood, to explore their love of theatre. We do some fantastic warm ups using movement and speech, something that can be challenging for some in our group. However, with the support of James and a couple of Balance staff, everyone seems to conquer any fears or challenges they may come across.
Currently we're all writing a play based on things that everyone loves. Each person has chosen their own character for the play – Mary Poppins, Pink, Agent K from the Men in Black, and many, many more. James has taken these ideas and formed them into the outline of a play. At present we are writing the first draft of a script to learn from. This is sure to be a challenging task, but we'll take it head on.
After the morning class we head back to Community to practice and sort out a few things. Everyone is working so hard and is willing to do anything to make our play work. It really is a testament to how much these guys love the program.
Recently, we made our way up to A 2 Z Costume Hire in Woori Yallock, to try on costumes for the first time. As we bombarded the shop, the owner, Sarah, was very helpful, finding us almost everything we needed. By the end of our expedition, not only had we found a ton of costumes but we also had some fun along the way, hence the man in the chicken suit.
I would personally like to thank everyone who has helped the drama program progress over the years, including Cathy Handy, Mel Smith, Emma Kay, James, Sarah Ward, and many others.
I would also like to give a massive thank you to Yarra Valley Youth Theatre who recently donated $1000 towards the program in memory of former drama group member, David Sinclair. The donation will help us continue the program and hopefully give other people the opportunity to experience what David experienced as a part of the group. It's such a fantastic thing to not only see, but be a part of, something that can have such an impact on peoples lives.
Beck Fletcher