Current IOE Training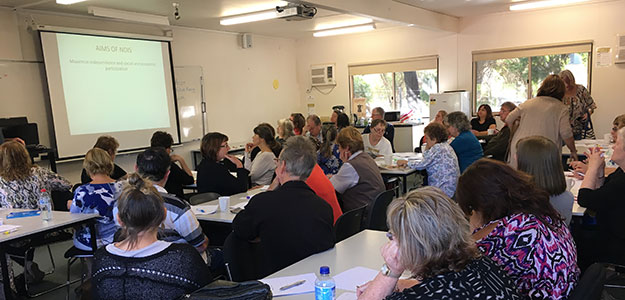 Interchange Outer East offers a comprehensive program of training in health, safety and disability related issues. Topics range from legislative requirements such as First Aid, Medication and Manual Handling to specialised medical care, and incorporate the latest sector developments and trends.
Staff, Support Workers and Volunteers are encouraged to participate in training to advance their skills and qualifications.  Families and other interested people are also welcome to attend training and IOE is happy to tailor training to suit individual needs and requests. All Interchange Outer East Training is free to Interchange members but a small fee may be charged to those external to the organisation.
Suggestions for future training and information sessions welcomed.
Upcoming Training at Interchange Outer East
Positive Behaviour Support
When: Thursday 23 November
Time:    10am-12.30pm
Presenter: Bec Casey
Where: Keith Thornton Room (IOE Training Room)
RSVP:   emma.robertson@ioe.org.au
More training is being planned and dates and details will be posted soon. Contact Emma Robertson for all training inquiries 9758 5522 or email emma.robertson@ioe.org.au
Volunteer Orientation
Volunteer orientation is extremely valuable and greatly assists volunteers to learn about IOE, develop relationships with other volunteers, learn skills and outcomes that make volunteering on camps and activities much easier. It is compulsory for volunteers to attend 1 volunteer orientation session, preferably within the first 3 months of becoming a volunteer with IOE. Sessions will be run monthly (see below for all 2017 sessions) giving everyone the chance to attend. If you have any questions regarding this please contact Beck or Marce on 9758 5522 or email volunteers@ioe.org.au
When: Monday 20 November; Wednesday 13 December
Time:    6pm – 8.30pm
Where: Keith Thornton Room (IOE Training Room)
RSVP:   volunteers@ioe.org.au
Recruitment Information Sessions
Attendance at a Recruitment Information Session is compulsory for all people considering employment with Interchange Outer East and is the only way employment applications can be lodged, so don't forget to bring your CV along with you.
We are currently processing successful applicants from our October sessions. Dates of future sessions will be posted as required.  To register  or for further information about casual support worker recruitment please contact Anna or Bernadette 9758 5522 or email anna.bern@ioe.org.au