Recreation Program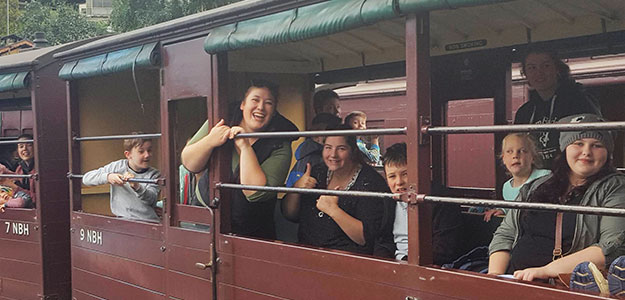 Group based recreation programs offer leisure and social opportunities to young people with disabilities who are aged between 5 and 17.  All activities are fun, engaging and based out and about in the community, taking advantage of the many community venues and events. Programs are planned so that  participants can choose the activities they want to do and who they want to do them with. Where possible, they are also involved with the program planning.  Most weekend recreation groups have a 'regular' membership of young  people who share similar interests, so encouraging friendships.
Volunteers are an essential part of all recreation programs, generally supporting children on a 1:1 basis to participate in activities, engage with others and most importantly have as much fun as possible.
To be eligible for these programs, participants must live in the outer eastern regions of Knox, Maroondah and Yarra Ranges.
SCHOOL HOLIDAY PROGRAMS
Interchange runs a full holiday program of camps and day activities during each school break. All camps and day activities are run by Interchange staff, with assistance from volunteers.
•    School holiday camps are held at accredited Victorian campsites and have fun packed programs of both on and off site activities.  Camps are generally of 3 – 5 days duration.
•    School holiday activities are fun, varied and community based. There is always something guaranteed to burn up the energy -rollerskating, swimming, bmxing, playgrounds – even the thrills of 4WDing, plus other more leisurely pursuits – visits to parks, shows,  the zoo …
CHILDREN'S RECREATION
Children's Recreation is a weekend based program for 5 -13 year old children which offers full weekend camps, mini camps and day activities. The small size of the groups is ideal for introducing  younger children to activities. Where possible groups are structured to include participants with similar interests.  Permanent groups which have consistent staff and regular members with common interests are a part of this program, so providing the opportunity for further development of friendship.  Volunteer support is on a 1:1 basis plus Interchange staff attend each activity.
YOUTH GROUP
Youth Group is for 14 – 17 year olds. A weekend program of full day outings and camps, Youth Group gives teenagers the chance to enjoy themselves socially at local community venues and events. Groups numbers are small and most have a regular membership of like minded people, so it's easier to make friends and build good group dynamics . Teenagers can choose to be a member of one of these regular groups or opt to attend on a casual basis. Support is provided by IOE staff and volunteers.