Children's Services

Interchange Outer East's children's programs and services provide a range of experiences and opportunities for children 0 – 18 years of age who are living at home in the outer eastern regions of Knox, Maroondah and Yarra Ranges (these eligibility criteria do not apply to purchased services). Whether it's having fun on recreation programs with a volunteer buddy or sharing time with a support worker from a purchasable service, there is always plenty of activity, new experiences to be had and friendships to be made for the children at Interchange.
All funded Children's Service programs currently have a waiting list but you can still register your details with IOE by completing the Waiting List Application
IOE also has an ever-growing range of programs which can be accessed by children who are either on the waiting list or not IOE registered/eligible. Contact IOE 9758 5522 for more information.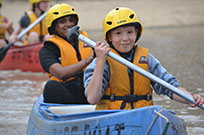 Group based recreation programs offer leisure and social opportunities to young people with disabilities who are aged between 5 and 17.  All activities are fun, engaging and based out and about in th...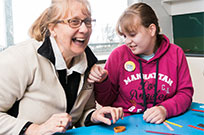 PURCHASABLE SERVICES 1:1 Through planning and working together, families can utilise NDIS funding,ISP funding, brokerage funds or direct payments to tailor supports to meet their respite, support and ...