Volunteer Fun… Plus Something More
March 5, 2013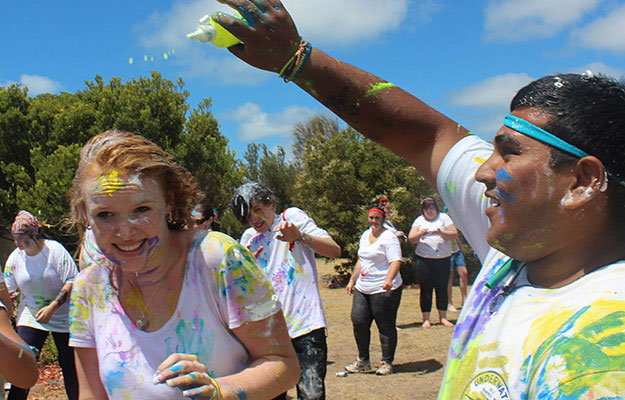 Interchange Outer East is constantly seeking new ways of improving the quality of  the 'volunteering experience' and its recent camp for volunteers, which was held in February this year, proved an ideal opportunity for incorporating aspects  of research and learning into the camp fun and activities.
While the emphasis was, as usual, on fun and friendship, personal development also played an  important role in the makeup of the weekend. The decision to add this aspect to the camp was the direct result of volunteers' feedback from previous volunteer surveys which suggested  that issues of personal safety, inclusion, feeling part of a team and, in general, additional training be addressed. The volunteer camp seemed an ideal environment to do this.
The camp started with introductions followed by a brief overview of the weekend's basic structure and discussion around the goals which everyone agreed had been set to achieve.  Team work and role playing were the focus of many of the weekend's activities. Volunteers were split into 4 groups for the weekend with each group working as a team to either run or participate in activities and accomplish tasks. Keeping the emphasis on fun tasks included being a 'flash mob', whole group spontaneous laughter, accent speaking and the best of all making life difficult for CEO Fred Brumhead, who was fully involved in the experience.
As volunteer camp is always a very popular event, attracting a large number of both old and new volunteers, the volunteer coordinators seized the opportunity to add to the list of thoughts, wishes and issues which had already been raised through the surveys.
"This year's camp was a great success in many ways" said Volunteer Coordinator, Marcelo Calderon "Team success depends on the individuals that make up that team. This reinforces each person's value. We want our volunteers at Interchange to feel that they are valued, not just for their volunteering contribution, but for who they are as a person. We encourage their input as to ways we can maintain and improve our volunteer program and the way they feel supported. Ultimately this is what builds respect and trust and a healthy volunteer community."
The weekend also gave coordinators and the longer term volunteers the chance to pass on to the newer volunteers, not only some of the practical skills they would need in their role, but the more esoteric  values – attitudes, human rights and values – which are at the heart of how Interchange Outer East operates.
The final question put to volunteers before heading back from camp was "… what motivates you to continue to volunteer and be part of the bigger IOE family."
For more information about volunteering with Interchange Outer East please contact volunteers@ioe.org.au
by Sandra Leehy