Volunteer Conference Reflections
September 17, 2013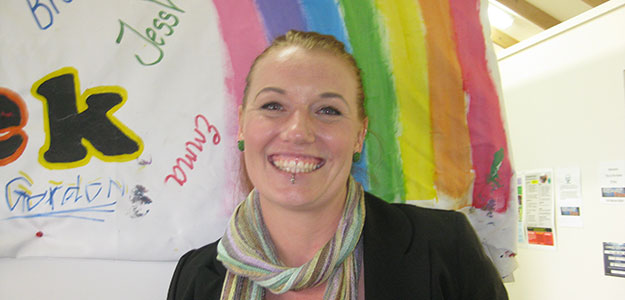 Sleepless nights, exploding heads, and a few tears.  Just a few things to sum up the experiences of preparing a presentation for the National Volunteer Conference in Adelaide.  However the feelings that were yet to come were completely different!
Both Marcelo and I were told by Fred that if we would like to attend any conferences that we would indeed need to be presenters.  So with that in mind we quickly prepared an abstract for the National Volunteer Conference. The title of our presentation was Influencing Our Future Leaders – Creating a stronger community by recruiting and nurturing youth volunteers.
During our presentation at the conference we shared with our delegates the positive impact that youth play in our community and the fantastic work they have done for Interchange Outer East over the past 30 years.  We covered a number of important aspects that had been addressed in a recent IOE volunteer survey,  backing up our comments with a PowerPoint display. Topics we covered were: misconceptions of youth as volunteers; recruitment and retainment; life cycle of the volunteer; the important role of youth in community; and the growth from young volunteer to influential community member.
We were so surprised with ourselves when we finished our presentation and realised that we ended up presenting fluently without referring to the notes in front of us!
After the conference we had people approach us to network with us and share their feelings on our presentation.  Everyone had so many wonderful things to say, and found our presentation extremely positive and enlightening.  Young people from other organisations also approached us, and thanked us for our positive stance on youth volunteers; they told us that we were the only presentation that they had attended that highlighted the positivity around youth volunteers, whereas many others had looked at the difficulties around recruiting youth.
For the rest of the conference Marcelo and I were on a presenters high!   Feeling like we had both accomplished something that neither of us would ever forget.  We went into every other presentation focused and ready to learn as much as we could.
The keynote speakers were fantastic – especially Debra Allcock and Graham Allcott, both from the UK, and Amanda Gore from Queensland.
We learnt many skills in leadership and around thinking productively.   It was a great opportunity for everyone there to reflect and be reminded that, as volunteer managers and coordinators, we have a huge variety of skills and jobs to do in our organisations. We were reminded that it's important to step back and look at our successes, rather than feel overwhelmed by the work we often feel we're falling behind on.
There were many whispers that this was the best National Volunteer Conference ever.  Being our first Volunteer Conference, we were impressed regardless.  It was wonderful to be able to talk about Interchange Outer East's contribution in our community, and to be able to learn further skills around supporting all our volunteers.
by Jess Van Arendonk