Volunteer Achievement Awards
September 15, 2015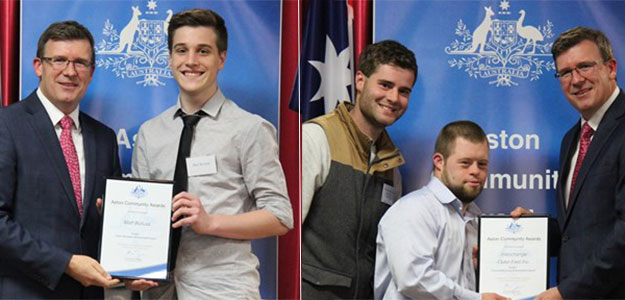 Once again Interchange Outer East members were publicly recognised for their voluntary contribution to their community at the Aston Community Awards ceremony on Friday Sept 4. Presided over by Alan Tudge MP Federal Member for Aston, the awards, in his words, "seek to celebrate those volunteers who give their time skills and energy to helping others, making our community a better place to live."
Matt Bulluss, a teenager who volunteers with IOE recreation programs, took out the top award in the Youth Volunteer Achievement section for his outstanding volunteering contribution to IOE programs and participants. Matt has been a regular volunteer on camps and activities since 2013. Volunteer Coordinators Jess Van Arendonk and Marcelo Calderon nominated him for the Aston awards in recognition of his huge input over this time. They particularly noted his mammoth contribution of 136 volunteer hours just over the July school holiday period alone!
The other Interchangers who were recognised at the awards were the members of the Adult Services Farm Intensive group, Robbie, Morgan, Lee and Josh, who were finalists in the Community Group Achievement Awards. Using the skills they have learnt on the farm they have been volunteering at Bayswater Primary School and the Salvation Army building a chook shed, working in their community garden and are now building a boardwalk. Jacqui Carter, school Chaplin, nominated the group for their fantastic work input, the great work ethic they displayed and their commitment to the projects. Morgan and staff member Matt Howard accepted the award on behalf of the group.
The Aston awards were named in honour of Tilly Aston, who was born in 1873 and became blind at the age of 7. She worked tirelessly all her life fighting for the rights of the blind and was instrumental in the establishment of Vision Australia. At this year's awards a diverse range of organisations and volunteering options were represented with volunteers ranging in age from 92 to the youngest ever nominee, a young boy aged just 9. Alan Tudge concluded the ceremony by commenting on the incredible number of wonderful organisations in Knox and the high standard of the volunteering commitment to the community.
Well done Matt Bulluss and well done to Robbie, Lee, Josh and Morgan. All at Interchange Outer East are proud of you!
by Sandra Leehy