Using Funding Flexibly for Success
November 4, 2015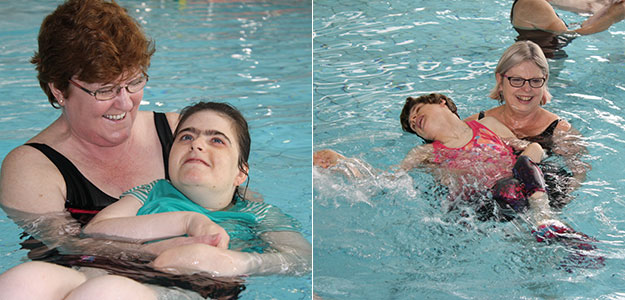 On a recent visit to Maroondah's Aquahub I was privileged to see the benefits firsthand of an individualized 1:1 program for Kristy and Elizabeth.
The girls and their families were looking for something different from the traditional group based program 5 days a week that is generally available to adults post school. They wanted something that would combine group based services part time, with 1:1 support, to allow the girls to do their favorite activity, swimming, as part of their personal plan goals. Both approached their ISP/futures planners and requested a change to their funding to individualise and customise their packages to better suit their needs. Working alongside IOE and their planner the result is a program that is continuing to benefit the girls each week.
It is immediately evident that the girls get far more than just enjoyment from their weekly swimming session. As soon as they enter the pool area their excitement is infectious. They are quickly greeted by their friends who they meet at the pool each week, everyone around knows them and greets them by name, from the other swimming instructors, groups, children, life guards and general pool users. For the girls this is a rare opportunity for them to break free of their wheelchairs, and experience the feeling of weightlessness. In the water they are immediately calmer and more relaxed. Kristy is able to stretch her legs out, her muscles relax and become more fluid and Elizabeth enjoys the feeling of splashing the water.
The girls thrive on the one on one attention and interaction they receive from their dedicated support workers Kerri and Christina during the session. Their eyes are brighter and their faces light up, whilst they constantly absorb their surroundings and look at their support workers with a face of wonderment as if to say "is this really happening?"
Both of their families agree that the benefits of a quality person centered program have been immense. They are able to have the 1:1 attention and interaction they deserve, whilst participating in an activity which they thoroughly enjoy and is certainly the highlight of their week.
by Carly Ellen Lee