The White Stuff …
June 26, 2013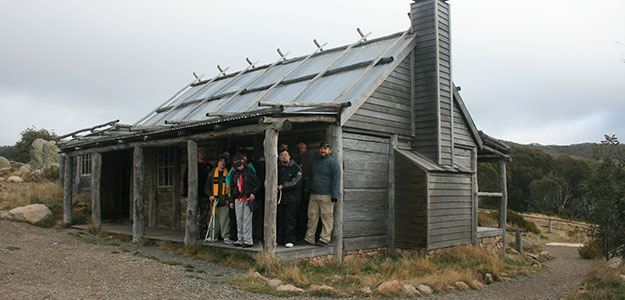 SNOW was the main attraction on our recent 4WD camp at Mt Stirling in mid May.
Eight eager young adults plus two staff and two volunteers headed up to Camp Howqua for a weekend of 4WD adventure. The next morning, gear was checked, the cars were packed and we set off for a jam-packed day of thrills, fun … and a snowball fight! Our gang was joined at Mansfield by a few more 4WD friends before we all headed towards Telephone Box Junction, along the circuit road and up Mount Stirling.
Atop the mountain at the beautiful Craig's Hut, and surrounded by panoramic views of the alpine countryside, a BBQ lunch was in order, followed by an impromptu snowball fight. We all spent the afternoon exploring the mountain tracks before the rain arrived, unfortunately putting a stop to the day's play.
After arriving back at camp, we enjoyed a relaxing (and warm) dinner at the Jameison Pub and then hit our mattresses for some much needed shut-eye after our action packed day. Sunday arrived and everyone was keen to get back out on the tracks to squeeze in that last bit of adventure before heading home to wash all the mud off the 4WDs!
4WD first-timer, Joy, who joined us on our trip, said "I enjoyed catching up with everyone and meeting some new faces. It was also awesome to see the coordination and cooperation between the vehicles. The scenery was beautiful and we were so lucky to have such great conditions … I'm definitely going again!"
As Interchange receives no funding for our 4WD program, we are currently looking at ways we can support the ongoing and increasing costs associated with this exciting and popular activity. We are putting out a call to individuals, businesses or groups who may be interested in supporting our 4WDing experiences by contributing, either financially or with vehicle maintenance, repairs and modification.  If you are interested in finding out more please contact Carly Ellen on 9758 5522  or email carlyellen.lee@ioe.org.au.
Carly Ellen Lee