Tangalooma Time!
December 22, 2014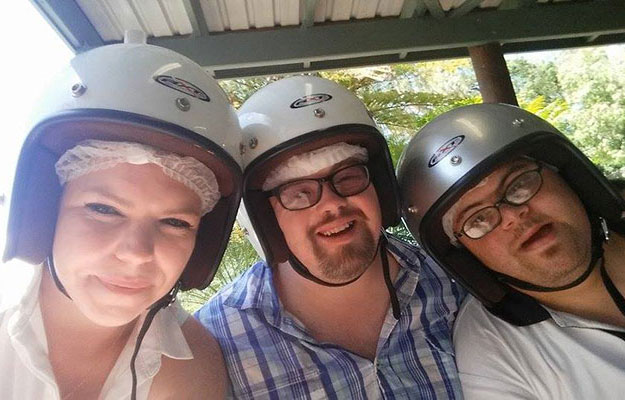 From 22 to 27 November, two staff, one volunteer and 8 Balance participants experienced both the adventure and relaxation that Tangalooma Island has to offer.
Now that everyone has had a chance to recover, I'd like to send a big 'thank you' to everyone for coming along and helping to create such a fun and memorable trip away. It was a pleasure spending time with everyone! Here is a brief run down of what we got up to, if the stories haven't reached home yet. 
Saturday – The flight to Queensland went well but the following ferry trip to Tangalooma island was a bit rough! Some of us were a bit sea sick from the big waves but it was a fast and enjoyable trip (for most).
Sunday – Natalie's Birthday! We spent the day exploring the island, finding out what was available for us to do and creating a little wish list. Natalie's birthday request was to head to the Chinese restaurant for dinner – YUM! This was quickly followed by half the group heading to the beach to feed the dolphins and the second half watching and taking photos.
Monday – We went on a desert safari tour which included a 4WD bus to get us through the tough roads, followed by a sand toboggan down the steepest sand dune I have ever seen! This was great fun and a truly beautiful place to see! We headed back towards the beach and the second half got to feed the dolphins on the beach. During the evening we ate pizza and went on a night time beach walk.
Tuesday – Just a casual time soaring 100 meters above the bay parasailing! Gordon took flight and had the view of a life time – this was amazing fun! Next up was the marine discovery tour which was beautiful; lots of amazing animals including dolphins, sea turtles and even a dugong! The cruise around the bay made for a perfect afternoon.
Wednesday – A bit of a relaxing day today. We spent time on the beach while the girls were pampered by a relaxing massage which they all loved. We spent a bit of time having a dance with the band on the beach. We had a lovely dinner to prepare us for a night of cocktails and karaoke! There is video evidence for those who wish to see (*cough cough* Gerard, Gordon and Natalie)!
Thursday – Home time, but this didn't stop us from another jam packed day! Kathleen went snorkelling for the first time and loved it! The boys went for a quad bike along the sand dunes – a favourite for sure! We left Tangalooma island and its perfect blue skies to head straight towards a black stormy sky and a flight delay! But we made it home safely which is all that matters 
The trip was so much fun! The dolphins and quad biking seemed to be the favourite by everyone!
Thanks to everyone for joining us on the trip – I can't wait to hopefully go away again with you all soon!
By Ashlea Allen