Swimming With Dolphins at Seaworld
December 19, 2013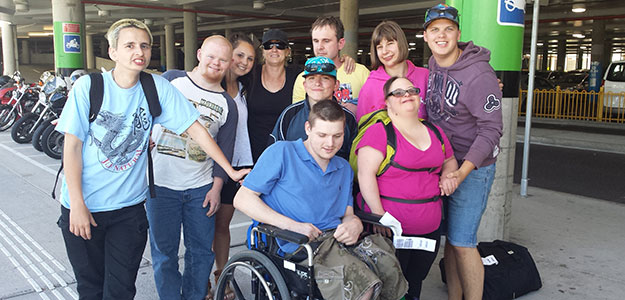 This year our young adults have been out and about holidaying in some amazing places and having some incredible experiences. Our December trip to Queensland was no exception. Miles, Nicolie, Bec, David, Cameron, Nic and Lee supported by myself, Brad and volunteer Chloe Mays  headed off on our adventure to swim with the dolphins at Sea World.
We poshed it up,  staying at the Sea World Resort for 4 days and all the young adults had an experience of a lifetime swimming with the dolphins and getting up close and personal with the huge mammals. During our stay we also watched the penguin feeding and dolphin show, saw the polar bears, went on a couple of the rides and adventure playgrounds and had a few great pub meals.
Swimming with the dolphins has been a lifelong dream for David, one of our holiday makers. So, to help him fulfill his dream, we went about planning the holiday to Sea World and finding others who also wanted to share the dolphin experience with him.  David, whose verbal communication and mobility are limited, was over the moon when he was in the water with Scooter, the dolphin. He really gave Scooter the once over, checking out all the dolphin's features – his mouth, his tail, fins and body – all the while giving him the gentlest of pats. But his favourite thing by far was when they both had a water fight and Scooter won. From David's reaction the entire experience certainly met all of his expectations … and the rest of the group were pretty excited too.
It was great to see David so happy and excited with his dream finally fulfilled! It was great also to know we had been able to play a small part in helping him to achieve it.
by Deborah Kennedy