Student Volunteer Project
August 14, 2015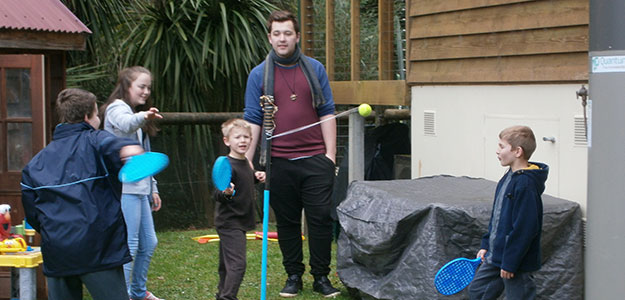 Interchange Outer East's youth volunteer program received a boost recently, with a number of Ringwood students gaining their first experience of volunteering on an IOE recreation program camp. The camp was an important part of the Ringwood Secondary Student Volunteer Project, a partnership between Ringwood Secondary and Interchange Outer East funded by Bendigo Bank and The Lord Mayor's Charitable Foundation.
The project, aimed to educate students about the ethos of community service and philanthropy and give them the opportunity to experience volunteering and learn leadership skills. Nicole Solomon from Ringwood Secondary was the driving force behind the project and encouraged the students to take part in the project. It was then supported by senior captain Jesse Baker, who is also a volunteer at IOE.
Part of the project, funded by the Lord Mayor' Charitable Foundation, was the running of two camps for students. The first camp was a mini camp, held in the training room at Interchange Outer East, and was attended by some of the Ringwood students, current IOE volunteers and Jesse Baker as a mentor to the students. It was just one night and feedback from everyone was that it was a lot of fun and very successful.
The second camp, a typical IOE Recreation Program camp, was held over the weekend of July 24 – 26. A couple of the more experienced IOE volunteers, including Jesse Baker again, came along to add their support and encouragement to the Ringwood Secondary volunteers . IOE volunteer coordinator, Jess Van Arendonk and Rec Leader, Hannah Cantwell were the leaders on this camp and provided ample opportunity for the new volunteers to learn and ask lots of questions throughout the camp.
Jess commented "The camp was fantastic and all of the volunteers did a brilliant job with the participants! Jesse was a fantastic role model and he also managed to get some video footage to put something together for both the school and IOE, which we will use for future volunteer recruitment"
All of the Ringwood students have said that they've thoroughly enjoyed their experiences and will definitely be involved on more camps and activities in the future. This has formed a wonderful relationship with Ringwood Secondary school and the film created will be used to present to students regularly to introduce them to what IOE does, so that they too may like to get involved.
None of this could have happened without the support of Bendigo Bank (Ringwood), Lord Mayor's Charitable Foundation, and Ringwood Secondary school, especially Ringwood Secondary's Nicole Solomon and Jesse Baker.
Interchange Outer East looks forward to continuing to build the relationship with Ringwood Secondary and its students.
During August the spotlight will be on young volunteers as Students across Australia celebrate National Student Volunteer Week (3 – 9 August), which aspires to challenge and celebrate young people who are striving to make a change through volunteering. http://nationalstudentvolunteerweek.org.au/
by Jess Van Arendonk