Social Enterprise With The Crunch
March 24, 2014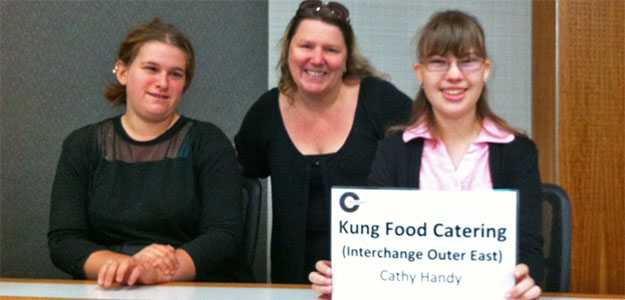 Interchange Outer East continues to seek avenues to increase the range of real life opportunities it provides to those young adults who use its Balanced Options services. It also continues to seek initiatives which will lead to greater inclusion, involvement and relevance in society and the local community.
With this in mind, in 2013 IOE's adult services submitted a proposal to participate in Social Traders' The Crunch program and was successful in receiving a funded place.
IOE's proposal was to set up a Social Enterprise business which would provide a healthy and quality catering service to school canteens. Many canteens are currently under pressure because of lack of volunteers to prepare food for the children.
The Crunch is Social Traders highly successful initiative for early stage social enterprises which aims to receive investment and start trading within 12 months. Through an intensive six month process, The Crunch's enterprises build individual business capacity, develop a rigorous business plan, establish a network of mentor support, and gain exposure to a range of social investors.
One of 84 applicants, Interchange Outer East successfully passed the various stages of The Crunch's selection criteria and, late last year, proudly announced it would be one of 16 funded places, in the women's led initiative section, and be a part of Social Traders, The Crunch 2014.
IOE Enterprises Service Coordinator, Cathy Handy, the driving force behind the process, and IOE Connections Facilitator, Lydia Webb have been working and learning hard with The Crunch now for  about a month.
"It is very intense" said Cathy "We are working with two experienced business mentors from Australia Post plus four Masters of Business Administration student consultants. It has been an amazing experience. In total we will be attending six workshops over six months at Melbourne Uni's Business School."
"We are learning about setting up business models, including how to make a successful business plan and how to pitch to investors."
Cathy and Lydia called on Rhiannon and Caterina  from IOE's adult services to assist them when, last week, as part of their course, they demonstrated the social enterprise catering service model they have been learning to develop, to other Crunch participants.
"We anticipate, with all the skills we are learning, that we will be able to set up our Social Enterprise through Interchange Outer East as a means of providing employment. The young adults involved in the enterprise would not only be learning skills and have meaningful employment but will also be contributing to their community. We see this venture as having considerable flow on benefits, not only to the organisation and those who use the adult services but also to the wider community" said Cathy.
For more information about Social Traders and The Crunch visit   http://www.socialtraders.com.au/thecrunch
by Sandra Leehy