So much fun to be had!
September 9, 2014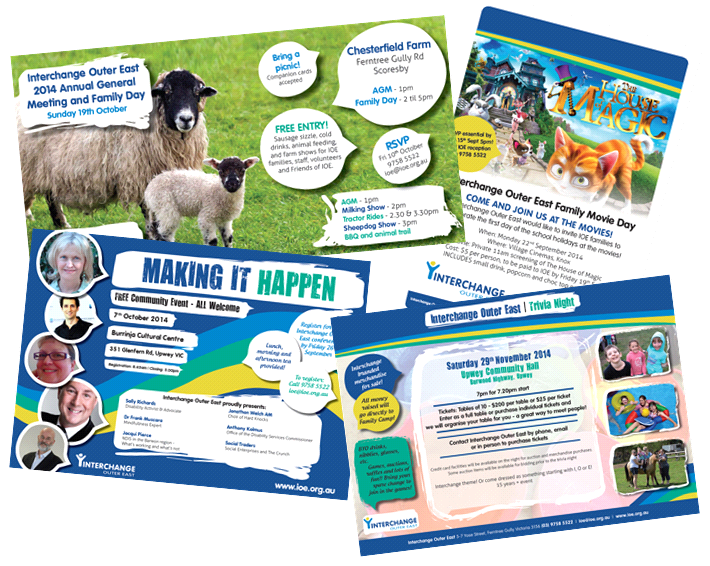 There are lots of fun and exciting events coming up at Interchange Outer East over the next couple of months!
Stoked by the success of the Family Movie Day in the July school holidays, we are holding another one on 22nd September. Interchange is hosting a private screening of The House of Magic for registered families, including a small drink, popcorn and choc top! The session will begin at 11am at Village Cinemas, Knox. There is a small cost of $5 per person, payable prior to the day. Places are limited and filling fast, so call the office now on 9758 5522 to register! Take a look at the poster: IOE Movie Poster September 2014_web.
We then turn our attention to 'Making it Happen', the Interchange Outer East conference, 7th October at Burrinja Cultural Centre. We are pleased to be bringing some really great speakers to this free community event. Interchange staff, families, volunteers, supporters and the general community are invited to spend the day (or part of the day if you can't spare the whole day), being educated, inspired and entertained by some highly acclaimed, passionate and interesting individuals.  To see the conference poster, click here: Conference Poster PDF. For more information on all of our speakers, don't forget to 'like' Interchange Outer East on Facebook by clicking here.
After the formalities of the conference, we head out to the farm! Chesterfield Farm that is, for the Interchange Outer East Annual General Meeting and Family Day from 1pm on Sunday 19th October. Check out the flyer here AGM Family Day_web! Interchange invites all families, staff, volunteers, Friends of IOE (and their families) to spend the afternoon exploring the farm and enjoying each others' company. We will be putting on a sausage sizzle and filling the eskies with soft drinks. Some picnic tables will be available for use, but why not bring a rug and spread out on the grass with your friends, family and a picnic! Entry is free for all invited, including a bag of animal feed for each child to wander around the farm and feed the animals – watch the goats, they'll eat the lot, including the bag! Please RSVP by calling 9758 5522, and don't forget to let us know if you'll be attending the AGM also. If you have a companion card, please show it upon entry to the farm, as this will help keep costs down for Interchange – thanks! See you at the farm!
As if all that wasn't enough, we are also holding a trivia night in November, including a fabulous raffle and auction! Get your table of 10 together, or purchase individual tickets and we'll put you on a table – a great way to meet new people! The trivia night will be held at the Upwey Community Hall on Saturday 29th November and will raise money for Family Camp. Trivia night tickets and raffle tickets will be on sale soon, and auction items will be advertised to allow for bidding prior to the night. BYO food and drinks, cups, plates etc. Ages 15+ please. Check out the poster here: Poster pdf. To register your interest prior to ticket sales, drop an email to ioe@ioe.org.au or call the office on 9758 5522.
By Faye Lougheed