Siblings and Beyond
February 5, 2015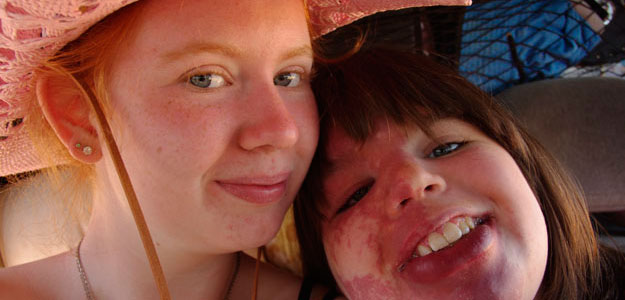 My name is Cassandra Stanford and my sister has a disability. Jacinta (my sister) is 17, Jamieson (my brother) is 13 and I am 19 years old. I have a passion for playing music and I absolutely love performing. I paint, generally abstract art to help express my emotions, and I love to photograph my family, especially Jacinta. In the photos I take, you can see her humanity and her personality which are things that people don't usually see the first time they meet her.
I tend to classify myself as a lifelong member of Interchange, because as well as Jacinta receiving support from this organisation, I also receive endless support as a sibling. For over 11 years now I have been reaping the benefits of the sibling program at Interchange Outer East. I have attended too many sibling camps to count, and when I was much younger would attend weekly sessions at Interchange. As well as being in the sibling program, I have been volunteering on day activities and camps since I was 14 years old, and have now been a support worker since the end of 2013.
My involvement with Interchange has now influenced me to do a Certificate IV in Disability, just because I love working in this sector. My earliest memories of Interchange are of pirates. Pirates and treasure maps. On the weekly activities we had so many different challenges, we would be wandering around the IOE portables and buildings, getting around obstacles that came upon us and Left Below trying to find treasure! I also remember being blindfolded and trying to eat, relying on someone else to feed me and writing on large pieces of butchers paper with only my mouth and feet.
Now, looking back, I can see that these activities weren't just for fun, but they also gave us the education about disability that we wouldn't get otherwise. Skills such as empathy and problem solving are essential for siblings to have so we can cope with our home life, and are skills that I now value highly. For me, these activities and camps helped me be able to cope with having a sister with a disability. They gave me fun breaks from home, life long friends, a comfortable and safe environment to talk about my true feelings, support which I struggle to get from other aspects in my life and the ability to know that I am loved in my family, and that I am still important even if I am not getting all of the attention.
From all of the support I receive from Interchange as a sibling, I can now support Jacinta and the rest of my family in ways that I couldn't have otherwise. I quickly learnt that there are others my age in similar situations, and that I can be comfortable with what makes me, me, and not be ashamed or worried about other people's judgement. I introduce Jacinta to just about every one of my friends, and have brought her into a class in high school to educate my friends about being a sibling to a person with a disability and to show them how proud I am to have my sister just the way she is. I know that I definitely would not be the person I am today without the kind hearts and continual support from the Interchange community that began when I was so young. I am confident and happy with who I am, and I cannot thank Interchange enough for the opportunities they have provided for me, and the love they have shown to me and each one of my family members.
Thanks!
By Cassandra Stanford