Sibling Support Reaffirmed
May 26, 2015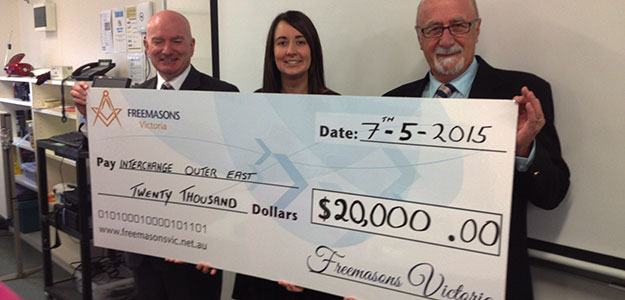 The importance and sustainability of IOE's Sibling Program were reaffirmed when members of Freemasons Victoria presented Interchange Outer East with a $20,000 donation to finalise their support for the program for the current financial year.
Freemasons members have been regular visitors to Interchange's premises over the years, making presentations of the funds that have kept the program operating, or as guests at thank you morning teas when they keenly listen to the latest updates on the Sibs Program.
At the most recent presentation in May this year, Lionel May – District Coordinator of Freemasons Monash Gully, Keith Thornton – Freemasons Charities Coordinator, members of Freemasons Victoria, Fred Brumhead – IOE's CEO, Sibling Coordinator Jenna Tatterson and other staff members and were joined by sibling Harry McKie and parents of children who access Sibling Support programs.
Laura West, who runs many of the Sibs activities, spoke about the wealth of research that has been done on siblings confirming that many siblings of children with disabilities can experience emotional, social and scholastic difficulties. A number of factors have also been identified which increase the risk of these issues affecting siblings; low socio economic status, stress, gender – males are more vulnerable than females, single parent families… Laura then noted that many IOE siblings meet at least some of these criteria and are therefore in the 'at risk' category.
The validity of these findings was confirmed by Harry, who shared his experiences of being a sibling, the challenges he faced and his participation in IOE's Sibling Program.
The families and everyone present thanked Freemasons for their recognition of the importance of the program and for their generous financial support – testimony of their belief in the ongoing benefits of the program.
IOE is committed to the continuation of Sibling Support, as it creates opportunities for siblings to meet others in a similar situation and to share their experiences. With Freemasons pledging to continue their support, the future of the program appears assured.
by Sandra Leehy