SHP High Physical Fun
October 30, 2013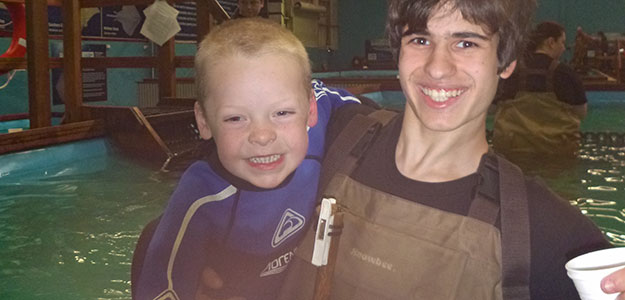 With the weather looming against us, we set off for what we hoped would be an awesome camp jam packed with activities.
Wednesday, first day, started off with a pack and repack of the trailer, before hitting Monash ARC for a swim – always worth the effort as the kids really loved riding the waves in the wave pool for the whole session. Luckily, we made the decision to have lunch before the 'big waves' session, in hindsight, a wise move!
Then it was 'Tootgarook here we come', with time for a walk to the local beach and playground before our delicious dinner expertly cooked by chef Eloise.
With everyone still worn out from swimming, we all opted for a quiet day on Thursday. Or so we thought. The other SHP camp was close by at Briars and they kindly invited us to join in on their flying fox camp activity. After a shared lunch we said our farewells and went our separate ways. While some campers chose to go back to camp to re-energise, the rest of us took a scenic drive back to Rye for a meander down the pier and a visit to the playground. The smiles and laughs from the kids were well worth the wait in the queue for the always popular swings!
Friday, our last day of camp, came so quickly. We again played Tetris packing the trailer and we were packed, cleaned, and out the door in record time for a High Physical camp.
Final camp activity was the Dandenong Shark and Ray Centre.  A definite camp highlight, despite fears that some fingers may be eaten by mistake as the sharks or sting rays came to gobble food relentlessly. There were endless squeals, not just from the kids, and splashes as the creatures came up nibbling at wetsuits and waders, or at the soft, squishy slimy feeling of the sting rays.
A great High Physical camp! Many laughs had along the way and everyone returned safely with 10 fingers and 10 toes still attached!
by Bec Casey and Erin Perry