Sharing Ideas Through Pinterest
October 14, 2013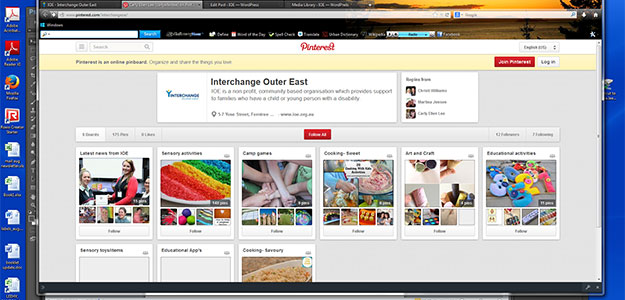 Interchange has jumped on board with the online pin board, Pinterest, to share information and ideas collected from around the world with families, support workers, volunteer and others.
Pinterest allows you to group pictures, links, videos, etc onto pin boards. Millions of people world wide use Pinterest to inspire, plan and collect ideas for holidays, weddings, work, recipes, design, craft, photography, renovations, events and so much more. Pinterest also suggests topics and ideas related to the content you are collecting on your boards.
Through Pinterest, Interchange can now share information and ideas on topics which will be of interest to all those people who are associated with the organisation. Better still, others can suggest ideas and pin them onto Interchange's Pinterest board!  The main categories which have been posted so far on Interchange's page are:  latest news direct from the website; sensory activities; sensory toys and items; camp games; cooking; arts and crafts; educational activities and educational apps.
Balance Options for Adults Coordinator Carly Ellen Lee started the concept at Interchange and says, "If your head is anything like mine, you constantly have a whirl of ideas and inspiration that float through it almost every moment of every day. I am constantly gathering feedback and information from everything in my daily life that, in turn, inspires my thoughts and ideas and gets me thinking about what I'm doing next."
"One of the best things about ideas is sharing them, so others can build and expand on them, providing further feedback and inspiration. Pinterest helps to make sense of my chaotic thoughts and saves my ideas, so I can go back and build on them at a more convenient time, as well as have them online to provide inspiration to others."
Keen Pinterest user and Support Worker Coordinator, Anna Billing, will be managing the Interchange Pinterest page.  Anna encourages people to follow the Interchange boards and she welcomes feedback and any contribution of ideas or information.
Interchange hopes to add a shortcut to their Pinterest page soon on the Interchange website to make it easier to find but until then … to view or pin items of interest Interchange's Pinterst page follow this link http://www.pinterest.com/interchangeoe
Happy Pinning!
by Rebecca Gallaher