New St. Kilda Mums Partnership
July 17, 2016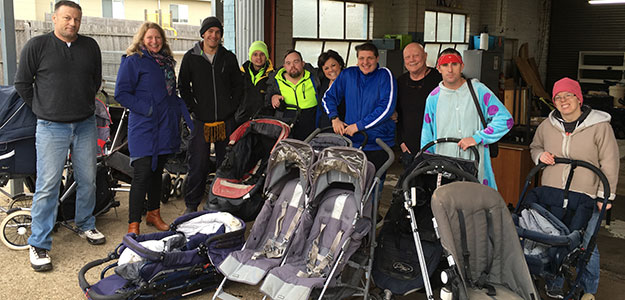 Interchange Outer East has formed an exciting new partnership with St Kilda Mums – a St. Kilda based not for profit organisation whose primary focus is to re-home new and pre-loved baby goods, books, clothing and nursery equipment to families in need all over Melbourne.
Interchange Outer East's Adult Service is constantly seeking new ventures which will provide work opportunities for participants and feels the relationship with St. Kilda Mums has much potential in providing these opportunities.
St. Kilda Mums is run by volunteers and relies on donations from community members and businesses and organisations. They have been collecting, sorting and redistributing baby and children's goods since 2009. They work with existing social service agencies and maternal health workers, who determine the distribution of the goods to families in need right across Melbourne.
All goods that are redistributed must be of a good quality, in working condition, and adhere to the appropriate Australian Safety Standards.
The IOE Sylvia Street factory site, previously mainly used as a site for the Enterprises work group has now become a shared space for use by IOE, community and other users. This site will also now be used to assist in the storage, assessment, cleaning, repair and re-homing of prams and cots for the St. Kilda Mums organisation.
Adult Service participants are learning to work on this equipment to ensure it meets safety standards and is in excellent condition for re-distribution to families in need. They are also involved in picking up goods from collection points and delivering them to St. Kilda Mums head office.
This partnership is a great opportunity for IOE's young adults to learn new work skills, develop new relationships and feel directly connected to the people they are helping. It is anticipated the work will also give participants a huge sense of satisfaction and increased self esteem, particularly when they return a trailer load of prams and baby goods they have cleaned and repaired, St. Kilda Mums for distribution to families!
IOE is thrilled to be able to support this amazing organisation and hopes to become even more involved in the future.
For more information about the St. Kilda Mums check out their website www.stkildamums.org
By Linda Hull