NEW! Communication Board
January 31, 2013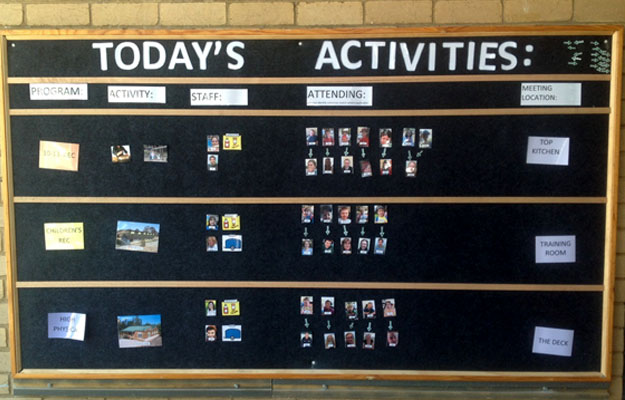 PLEASE NOTE: The photos of the board used in this explanation are for demonstration purposes only, and do not reflect actual activities running.
New visual board at Interchange Outer East makes recreational activities easier for everyone!
Interchange Outer East's communication coordinator Bec Casey has been there; she's seen how hectic it gets when camps and activities are getting ready to leave; when multiple trailers are being loaded; when dozens of excited kids and young adults are preparing for their activity or camp, and volunteers aplenty are roaming around.
Who is the staff member for my camp?
Who do I give medication to?
Which trailer is mine?
Who's our volunteer buddy for today?
Where are we meeting for our camp?
These questions have been heard millions of times at those hectic camp/activity departure times.
The new visual board at Interchange Outer East is up and ready to answer all of these questions and more for you.
The board, located on the decking where most camps and activities leave from has been developed from scratch, and brought to life with the fantastic help from the guys at Balance Enterprises, and our fabulous handyman Matt.
So here it is… allow me to run you through how it works.
The board uses visuals to display:
•    The program
•    The activity/camp heading out
•    Who the staff are for each activity
•    Which staff member is signing in medication for your activity
•    Who is packing the trailer (if appropriate)
•    Who else is on the activity
•    Volunteer matches (if appropriate)
•    Where your group is meeting
Reading the information is simple:
Find the program that your child is going on, and check the activity is the correct one (as sometimes the same program may have two different groups going out on the same day)
Follow horizontally to read the information about your activity. Beside one of the staff members for your group will be the picture for 'MEDICATION'. This means that this is the person that needs to check in medication for the day.
If it is a camp, one of the staff members will have a picture of 'TRAILER' next to them. This is the person packing your trailer. This will assist when multiple trailers are going out, to make sure that your luggage goes where it needs to!
Further across, you will find photos of everyone else going on the activity. Where appropriate, volunteer matches will be depicted by a green arrow.
And lastly, you'll find the location that your group is meeting. Sometimes, there are multiple activities going out, and to reduce the stress of this, groups may meet in different locations of IOE. If your group is a location of IOE that you are unfamiliar with, perhaps the "TRAINING ROOM" or "TOP KITCHEN", feel free to ask anyone around, and they will happily direct you to your meeting location.
Through creating this board, a new database of photos is also being created. These will make it much faster and easier for social stories to be created, and other communication aids. It also means that we now have photos of most of our staff, and volunteers. If you receive in home support, coordinators can access photos of most of our support workers. This means that photos of support workers (or activities etc) can be sent to you via email or hard copy much easier than before. It even means that if you have a new support worker coming into your home, and your child requires a visual of this person, a photo of the new support worker can be emailed to you before the shift takes place.
Also, discussions are underway as to whether or not we should colour code our trailers, and display them on the board as different coloured trailers to make it easier to find the right one. At present, the trailers remain as is, and you can find the photo of whichever staff member is packing the trailer to assist you. Keep an eye on the IOE Facebook page www.facebook.com/InterchangeIOE for an update if we do decide to colour code our trailers.
What if I have denied IOE permission to use photos of myself/my child?
IOE will only be using photos of people who have photo permission. If we do not have photo permission for a person, a name will be used instead.
For example:

If IOE does not have photo permission for your child, but you would like to give permission for their photo to be used on the communication board ONLY, please contact bec.casey@ioe.org.au to arrange this.
Do you have a photo of me/my child for the board?
Lots of photos have been taken throughout January to assist in the creation and smooth-running of the activity board. If you are unsure whether or not we have a photo, please call Bec Casey on 97585522, or email bec.casey@ioe.org.au
If we do not yet have a photo for the communication board, emailing through a clear facial photo would be greatly appreciated!
How accessible is the board for everyone to be able to view?
The board has been designed to be at an easy eye-sight level for most. When setting up visuals for the day's activities, younger groups will typically be at the bottom of the board, whereas older age groups will be higher up. The exception to this is if the visuals will need to be viewed by someone in a wheelchair, they will be as near to the bottom as practical to allow everyone access to viewing.
How secure is the board?
The board is very securely attached into the brick wall, so does not pose any danger from anyone being able to pull it down.
If you have any other questions regarding the activity board and its use, or would like to submit any feedback or suggestions about the board, please don't hesitate to contact Bec Casey on 9758 5522, or bec.casey@ioe.org.au
A huge thank you to the Balance Enterprises group, and our handyman Matt for helping to have this fantastic resource up and functioning in such a timely manner.
Bec Casey