National Youth Week Celebration
April 3, 2014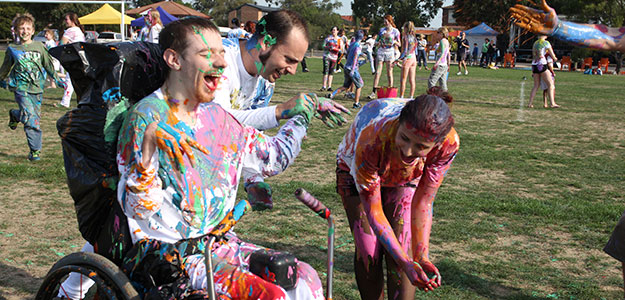 Interchange Outer East will be joining thousands of individuals and organisations across Australia in celebrating National Youth Week (April 4 – 13), with a fun filled event for local youth on Saturday April 12.
An initiative of the Federal, State and Local governments, National Youth Week recognises and celebrates the contribution young people make to their communities. Activities and events across the nation give the youth of Australia the opportunity to express themselves, confront youth issues and, most of all, have fun.
In 2013 more than 25,000 young people from across Victoria participated in National Youth Week activities.
Interchange, youth and fun – the three things go together and IOE's National Youth Week event to be held on Saturday 12 April 2014, will continue this tradition.
Starting at 4pm and finishing at 8pm at the IOE offices in Yose Street, Ferntree Gully, there will be lots of activity and lots of fun with live music, a giant inflatable twister and sumo suits and duelling ring. There will also be stalls with food and information. For the gaming buffs a Nintendo Wii will be set up in the IOE training room with a number of games on the go.
IOE has titled its event 'Colour Our World', as no IOE youth orientated event is complete without a paint fight. Saturday 12's event will be no exception, with the evening finishing on a colourful note! So if you are coming along, bring/wear something old and be prepared to be painted!  IOE's National Youth Week event for 2013 set a paintfight benchmark – check out the photos on the website gallery page to see the result!
Interchange Outer East is extending an open invitation to anyone between the ages of 12 and 25 to join in this free event (alcohol free). For more information please contact Jess or Marcelo on 03 9758 5522 or email volunteers@ioe.org.au       Download the event flyer
To find out what else ids happening in National Youth Week 2014 check out the website  www.youthweek.com
by Sandra Leehy
Addition post event : check out the photos from the event at http://www.ioe.org.au/what-we-do/photo-gallery/2014-photo-gallery/national-youth-week-2014/