National Recognition for Todd
April 9, 2013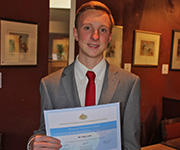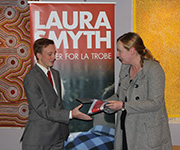 Interchange Outer East volunteer Todd Lovett received recognition at the National Volunteer Awards ceremony which took place on March 28, 2013.
Todd joined four other local volunteers at a special ceremony where they were presented with National Volunteer Award certificates signed by the Prime Minister and the Federal Member for La Trobe, Laura Smyth MP.  At the award ceremony, Laura Smyth MP said, "These volunteers deserve our recognition and support in order to do their work. I hope in a small way that these awards reassure these recipients of the full value of their contributions, and that it encourages other people to do good work."
Todd was successful in the 'Youth Volunteer Award' category, after being nominated by IOE Volunteer Coordinator, Jess Van Arendonk, for his outstanding efforts in volunteering with the agency for the past five years. "IOE is extremely lucky to have such a dedicated young man like Todd as a mentor for our volunteers. We are very proud of him", said Jess.
Todd was first inspired to volunteer with IOE, at the age of 14, by his mum Janine and IOE recreation leader and volunteer Aaron Fry. For the past five years, Todd has volunteered regularly on camps, day activities and school holiday programs. His knowledge, experience and passion for volunteering have moulded him into a respected and popular mentor for junior volunteers. This invaluable experience and passion has been recognised throughout the agency, with Todd now undergoing training to be a recreation leader, and also working as a support worker. Volunteering has indeed become a family affair in the Lovett household, with Todd's younger sister Daisy now signing on and experiencing all that volunteering with IOE has to offer.
Stories like Todd's really encompass the values and culture of IOE – community supporting community while building positive, mutually beneficial relationships with families, organisations and other communities.
IOE is extremely proud of Todd for his momentous achievement, and grateful for his continued commitment to the IOE vision – 'To assist others to achieve the life they want'.
By Faye Lougheed