Music, Music and More Music
May 17, 2017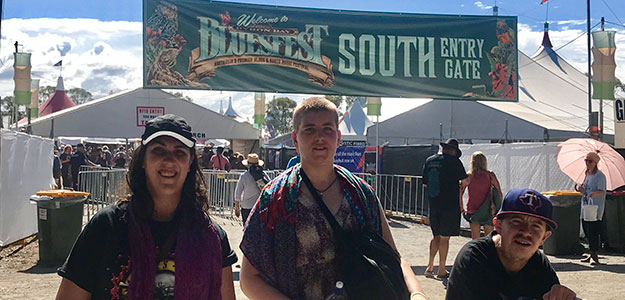 "Ah, music," he said, wiping his eyes. "A magic beyond all we do here!" – Dumbledore – J.K. Rowling
And magic it has been over the last month for IOE's Adult Recreation Program.
We started off with Bluesfest in Byron Bay where a group of keen music lovers spent their Easter break, sleeping in tepees and soaking up blues, soul, roots and reggae music from dusk till dawn for five days straight.
Next up was the 10 day trip to the Wide Open Spaces music and cultural festival in Central Australia which finished off with a road trip home.
Mid April saw a local Music Weekend away in the Yarra Valley with a focus on writing, playing and recording music.
This was all topped off with the amazing and energetic Green Day concert last weekend as well as a couple of very exciting purchases of much sought after concert tickets … watch this space, you won't be disappointed.
We have a lot more music to come in 2017 and early 2018, this is not counting a number of individualised music activities that have been based on special requests from families and participants.
If you hear of a gig coming up that you would love to go to, please contact me 9758 5522 or email jo.davis@ioe.org.au to discuss it, we can customise something for you or see if we can get a small group of like-minded fans together to share the experience with you.
Rock On!
Jo Davis