Mums Off To A Good Start
March 10, 2017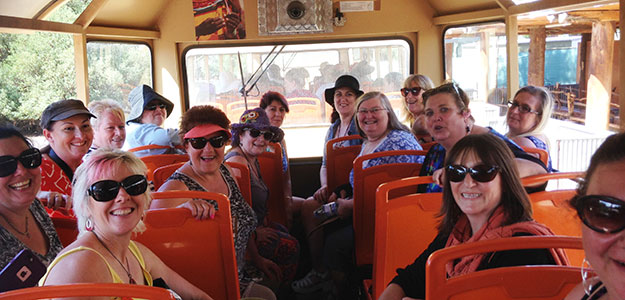 Riding the Safari Train, checking out the animals, relaxing on the lawns, eating, drinking, chatting, listening to African Rhythms, having a go at drumming, dancing and learning the African moves as dusk began to fall plus some memorable 'close encounters'. That just about sums up our first IOE Mums Social group outing for 2017 to Werribee Zoo.
Yarra Glen Racecouse Market with its hundreds (it seemed that many!) of stalls selling anything and everything from produce to handmade crafty things of all descriptions. Lots of tasting, trying on, checking out and buying. Off to the busy Yarra Glen Grand Hotel for a noisy but very tasty lunch. A stroll around the town for some. A glass of wine and a 'sit 'n relax' for others. The road to Yarra Glen was closed which meant we had to detour to Healesville – still it was a nice country drive. Unfortunately it was still closed at the end of the day which meant we were back later than expected.
It has been a lovely start to our group's program of outings. We have loved welcoming a few 'newies' into our social group and look forward to having more ladies come along to our monthly outings. Check out the Feb – June program HERE. Remember you do not have to be registered with IOE to join in the fun – all our family support programs are open to all carers.
Sandra Leehy