Merricks Volunteer Camp
December 23, 2015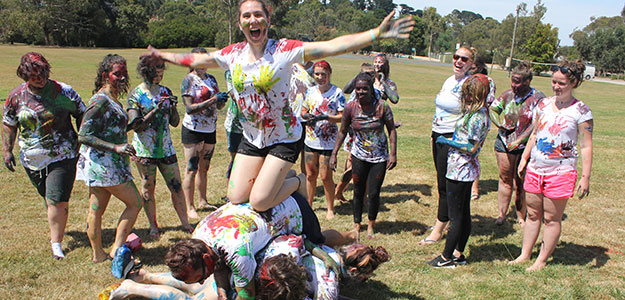 Over 30 volunteers attended the recent end of year Volunteers Only camp which was held from 16th – 18th December at Merricks on the Mornington Peninsula. This was the second volunteer camp for the year  – a real bonus for the members of the IOE volunteer team.
The camps are a way of saying thank you to recreation volunteers for their huge contribution to IOE during the year … plus thank you for the fun they share with the children and young adults and the invaluable support they give to families.
As well as being an opportunity for volunteers to have a short holiday away where they have loads of fun themselves, the camps are a great opportunity to network,  engage with  and provide feedback to the Volunteer Coordinators and Rec Program Leaders, and to have input in discussions about volunteering at IOE and future directions and procedures.
Marcelo Calderon, Volunteer co-Cordinator, reported:
"On the way to Merricks we stopped for lunch in Sorrento – renewing friendships and making new friends over fish and chips – what a great way to start a camp. With the temperature in the high 30s the afternoon was spent in the campsite pool, the only place to be!
While some of the games we play on camp are just purely for fun, others have an element of 'role play' involved. Some of our after dinner games fell into this category  – shaving !, brushing our partner's teeth, playing blindfold soccer, stuffing our mouths full of marshmallows and then trying to communicate.  These all replicate situations of providing support and personal care for others and get the volunteers to come up with solutions to problems.
The last couple of volunteer camps we have had forums on issues and topics which relate to volunteers and volunteering at IOE. These have proved to be very valuable and volunteer feedback on them has been very positive. This camp our first night forum was on feedback  – the benefits and usefulness of feedback, particularly from volunteers to rec leaders.  We practiced giving positive and negative feedback and discussed how and when it is most useful.
Then it was relax time, fun time and junk food time until bed!
This year, Laura West, a play therapist who has had a long association with IOE, came along to train the volunteers in play therapy – an important part of the role of volunteering with children. Volunteers were split into groups with sessions running morning and afternoon. While one group was working, the other was off Stand Up Paddle Boarding in Sorrento!  With soaring temperatures, any spare time was, of course, spent cooling off in the pool.
On our second night's forum we sought feedback on how Jess and I, as volunteer coordinators, could improve in our role and how we could better support the volunteer team members. We found this discussion very useful and will take all comments on board.
The new Star Wars movies was showing at the local cinema, so a few braved the heat and headed off for a night with 'The Force'.
Our third camp day didn't give us any relief with the hot weather , so the pool got a good work out , we played a few team games and had the obligatory camp paint fight before heading home.
Thanks to everyone yet again, for another memorable, if hot, camp"
The February 2015 Volunteer camp had the result of enthusing and invigorating the volunteers and produced a really good outcome of increased communication across the volunteer program, particularly in relation to mentoring and support. With a full program of holiday activities and camps  planned for the summer holidays, IOE volunteer Coordinators are hoping for the same result from this camp.
By Sandra Leehy