Mentor Award Nomination For Angie
October 30, 2013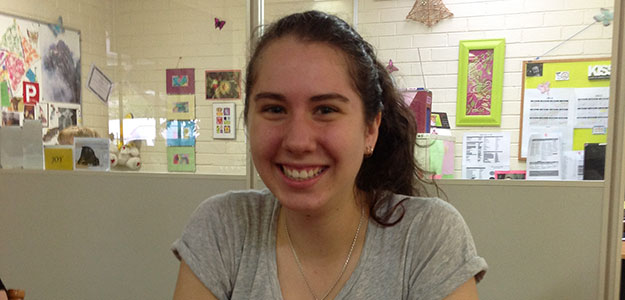 Interchange Outer East Volunteer Angie Sipka's excellence as a mentor was recognised during Youth Mentoring Week 20 – 26 October. As a nominee for the Mentor of The Year award, Angie was presented with a certificate  and a double pass to the zoo.
Jess Van Arendonk, Volunteer Coordinator of IOE, nominated Angie for the volunteering and mentoring work she has done over the last three years with children and volunteers at Interchange Outer East.
When nominating Angie, Jess wrote "Angie is extremely person focused.  She puts a lot of time into getting to know each individual that she is supporting  – what their interests and skills are, what people like and admire about them, and what experiences they are after while attending the program.
Through taking such an interest, Angie is able to form great relationships of trust with the people that she supports.
Angie has earned the respect of both her peers and also the younger or newer volunteers. She is always a positive, enthusiastic and motivated role model.  She leads by example, offers advice to any new volunteers, and is always thinking about the needs of the people that she is supporting."
Angie's willingness to learn, to ask for advice when needed and her ability to provide and receive feedback on her role as mentor, also impressed Jess. Her positive and non judgmental attitude have made her a winner with the children and other volunteers that she supports and mentors.
In conclusion Jess wrote "Angie's role as a volunteer mentor is an extremely challenging role, however, Angie never seems to find this to be a challenge.  She always goes above and beyond her role and dedicates the majority of her weekends to support our participants on their programs.  We are extremely grateful to have such a positive young role model as a volunteer and mentor at Interchange Outer East."
Congratulations Angie. Your recognition is well deserved.
by Sandra Leehy