Our Staff

Introducing you to some of our staff
Jo Davis - Purchased Options Coordinator
  Meet Jo Davis, from the Adult Services team.
Jo has a good deal of experience in the disability field having worked for a number of years in education support at the Yarra Ranges SDS. Jo is one of the founding members of FAST, a research and advocacy NFP foundation for people with Angelman Syndrome, where she served as a board member and volunteer. She also knows the other side of the field, being a carer for her son who has a disability.
Jo lives locally with her husband and two boys and finds her passion for travel, yoga and long walks on the beach provide a balance in her busy life.
A desire to stay in the disability field and the need to seek out new challenges brought Jo to IOE. She says "I'm passionate about my role and all of the possibilities that our service can open up for our Interchange families, particularly now with the increasing rollout of the NDIS.  There i a whole new world of possibilities.
Kimberley Hannett - Children and Family Services Team Leader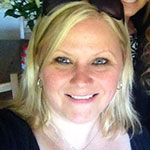 Kimberley is not only the leader of one of IOE's largest teams, she is also the general 'go to' person when anyone wants to find out what is planned or happening at IOE. She has so many people dropping into her office to chat during the day she pretends she is 'not at home' by hiding behind her window blinds! Whether its family camp, overseas trips and visits, new or special projects, family issues, or just the day to day running of the team, Kimberley always seems to end up on the organisational end of things. Somehow she still manages to stay happy, positive, always helpful and always fun to be around. Everyone loves Kimberley!
Since her involvement with the MelMi exchange program Kimberley has made firm friends with some of the Italians and keeps in regular touch via facebook. She can often be found muttering, looking perplexed and searching Google Translate in an effort to decipher her latest messages.
Kimberley lives on a rural property in Castella – so has a lovely drive to work! – with her husband and two boys and various animals which all keep her very busy. She is involved with the local footy club and has a busy social life with all their friends from the Castella community. In her few leisure moments Kimberley likes to go for a bushwalk, just loves to eat good food and enjoys catching up with her Mum and sisters –essential girl time amidst all those boys!
She's worked in the Disability field for 20 years now and has been with IOE for 8 of those in a range of roles, coordinating Volunteers, Youth Groups, AWSC, School Holiday Programs and the High Physical Program – to name just a few. But her self confessed all time favourite IOE program is Family Camp – she calls it 'her baby' and it is very close to her heart. Ahhh!
Mark Taylor - Information and Intake Coordinator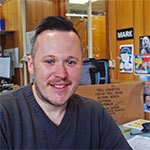 Mark was born in the UK just north of Birmingham in a placed called Walsall. His accent rather tends to give his birthplace away!
He has been in Australia for 9 years and is now a genuine Aussie with an Australian Citizenship certificate to prove it. He lives in Croydon with his partner Chelsea and their 19 month old twins,  Jude and Freya.
Before coming to IOE Mark worked as a disability support worker for Yooralla for 6 years in Ferntree Gully.  "I can't escape the magical essence of Ferntree Gully and the hold it has upon me" he says.
In his non work related life he likes to go camping and bushwalking, watch films, listen to music, listen to podcasts (on anything science, film, documentary related). He also likes photography and to travel – hopefully not too far, or in the immediate future, as he is doing a great job here in his role as Information and Intake Coordinator. Mark has also taken on the running of the Dads Social Support group and has been leading the Dads astray (though maybe its the other way around!) on their monthly activities.
Helen Gordon- IOE Bookkeeper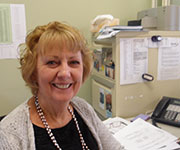 Numbers, numbers and more numbers are what fill the working day of the lovely Helen Gordon, IOE's bookkeeper. Helen has been adding figures, balancing books and placating auditors for the past 13 years  – the auditors seem to be getting happier and happier – so well done Helen.
Family plays a big part in Helen's life and with three daughters and four grandchildren, this doting Nanna is kept very busy during her time away from work.
Of late she has developed a taste for travel and likes to pop off for a few days to various spots in Australia and further afield. Helen has also confessed to a liking for wineries, wine and pursuits and activities related to the grape. When she is not pursuing the aforementioned activities or looking after grandchildren she can be found pottering around her house and garden.
Marcelo Calderon - Volunteer Coordinator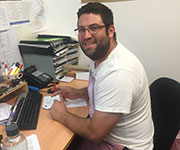 Marcelo first started working at IOE as a casual support worker in 1998, before moving onto casual work in the adults' Balance program . After a few years, Marce and his lovely now-wife Meaghan caught the travel bug, donned their backpacks and headed off to explore Europe, living for a while in Edinburgh.
After they returned to Australia, Marce started back at Interchange as a permanent support worker on Balance before taking up the coordinator role at Community Balance in 2007.
In 2012, Marcelo took up residence in IOE's portable 3 and began work as Volunteer Coordinator alongside Jess Van Arendonk. They keep each other in check (mostly) and make a great team!
Marce enjoys his job as it gives him endless opportunities to work with people, lots of face-to-face contact and interaction with all the different characters and experiences that come with the territory.
At home, you've got to feel for Meaghan; outnumbered 3:1 by boys, with Marce being the biggest kid of them all!
He loves a chat (English or Spanish, take your pick), he loves a joke and he's a font of knowledge!
Hi-five to Marcelo!
Bernadette Cantwell - Support Worker Connections Coordinator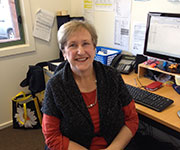 Bern's involvement began with Interchange when she welcomed Jayden into her family as a host volunteer – over nine years ago and counting!
Bern is also a valued staff member who has been with Interchange for 8 years now. She co- shares the support worker recruitment coordinator role with Anna Billing. The role is based around support worker recruitment, including: facilitating support worker information sessions and inductions, interviewing potential workers, checking references and publishing the quarterly support worker ENews. We all look forward to reading this, as it's such an interesting mix of articles and handy information.
Bern loves being involved with people and has highly developed people skills which come in handy when dealing with her dozens of riotous daughters.
Many people at Interchange Outer East  seem to be related to Bern in some way (staff, volunteers, support workers!) and we are thinking of purchasing a giant whiteboard so that we can put her family tree up and know and show who's who in the IOE family!
Jenna Tatterson - Sibling Coordinator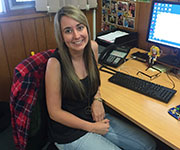 Jenna is now celebrating her 10th year with Interchange Outer East, having started work as a casual support worker in 2005 and joining the full time ranks as a Coordinator in 2010.
A member of the Children and Family Services Team, Jenna coordinates 1:1 support for 20 families and also coordinates the Sibling Program. She not only plans all program activities but also organises the numerous thank you morning teas and acknowledgements for Freemasons who financially support the Sibs program.
A big kid herself, Jenna loves running amok with the kids on camps, activities and support shifts, and is always putting a smile on their faces!
She loves the atmosphere at IOE, being able to build relationships with so many families, children, staff and vollies and always getting in on the fun.
If there's a bet to be made, Jenna will be in on it and it usually ends up with her having to wear strange outfits to work – including betraying her beloved Richmond Tigers by wearing the opposition strip for a day!
Shout out to Jenna!