House Intensive Success
February 5, 2015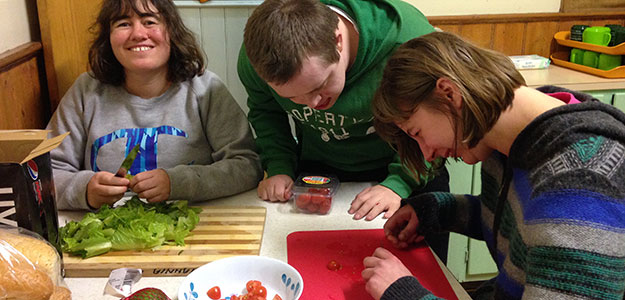 During 2015, young adults attending Interchange Outer East's adult service will again have the opportunity to experience what it is like to live out of home as they take part in IOE's House Intensive program.
The House Intensive program has been in operation since 2012 and has continued to have a significant positive impact on participants. Each week a small group of young adults spends two days, including an overnight stay, at a house, together with an Interchange worker who supports the group. The program provides a 'real' environment where participants learn and practice the skills they will need for an independent lifestyle, whether living in the family home or completely independently away from home.
All housemates are supported to be responsible for their living arrangements. Some of the skills taught and practiced are making their own beds, preparing and cooking meals, using appliances, washing up and general house cleaning tasks.
Equally as important is learning to live together and to work as a group when deciding such things as daily menus and writing shopping lists, doing the shopping and navigating supermarkets and preparing, cooking and sharing meals. They also discuss the value of healthy foods and making good choices and learn to differentiate between the value of various products. Participants support each other and work as a team to achieve their tasks and are encouraged to seek help from each other if needed. Conversation skills are practiced continually as are thinking and listening skills.
House Rules are written up each block to ensure everyone is treated with dignity and respect and their individual rights are upheld and everyone is clear about their responsibilities to the group and the program. The time at the house is not only about work and rules, participants get to relax and hangout together, go for a walk, share an activity, watch a movie …
It's a challenging experience for the participants as they need to accept the diversity of the group, deal with conflict resolution and share, listen and accept the differences within each other.
The outcomes from the 2014 House Intensive were extremely positive with parents reporting that, following their involvement with the program, their young people were demonstrating increased communication, independence, confidence and self esteem and were using their learned skills at home. Program staff noted that as the weeks progressed the individuals were taking more responsibility and making more decisions. They were using their own initiative and required very little prompting and were working brilliantly as a team to achieve tasks and in helping each other.
A family dinner night was planned at the end of 2014 to show families the skills participants had learned and the outcomes they had achieved during the year. The night was a huge success, suitably impressing families, and demonstrated perfectly the support the group had for each other, their increased confidence, the skills they has acquired and the progress they had all made.
Some of the feedback received from 2014 has been:
"I think the program easily achieved its objective for the group, but it was the family dinner night that really showed how far they had developed both in their cooking /kitchen skills and overall self confidence. They were all so proud of what they presented on the night – it was just fantastic – and as parents we were so proud too."
"He loves going to the house each week and we were so proud to see him last week feeling so confident and capable"
"It's nice to see her so happy with her peers – a different person from at home."
" His demeanor has completely changed … he is now verbalising his wants at home."
"Thankyou for turning our son into the happy settled young person he is today."
And from the participants:
"It's good, fantastic, awesome!"
"I like cooking dinner."
"I have fun"
"I like doing cleaning jobs!"
We are looking forward to an equally successful 2015 House Intensive.
by Sandi Anthony – House Intensive Support