Host Camp Says Thank You
March 31, 2014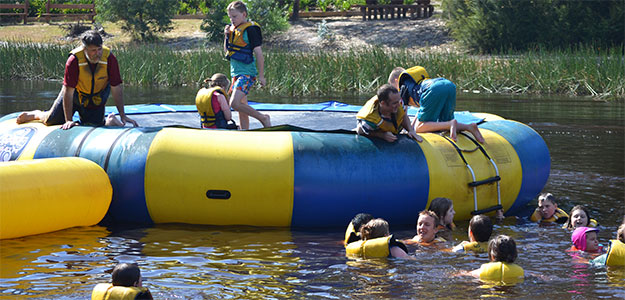 There are not many opportunities we have to say our heartfelt thanks to those wonderful individuals, couples and families who are volunteer hosts with IOE.  So, in early February we
invited our hosts, together with their hosted child/young adult, to come along for a weekend holiday of fun at the Adanac CYC camp in Yarra Junction.
More than 50 guests attended in spite of the extreme summer heat which caused some hosts to cancel. In fact the camp had to be cut short due to the extreme conditions and hire fire risk for the region that weekend.
Nevertheless we managed to squeeze 48 hours of fun into 24. Obviously with the weather conditions, keeping cool was a priority so water activities dominated the camp. The campsite's huge 110metre water slide was a great hit. Then there were water pistols, a lake and an aqua trampoline to keep us cool and on the Saturday afternoon most people headed off to the local pool. Those who stayed back at camp had heaps of fun with green slime, jelly and bubbles – well the kids had fun. Fred was in attendance so, of course there was a mud fight – after all he has his reputation to keep up!
Hosts told me they appreciated the opportunity to have the time away and that they enjoyed meeting Fred and Belinda – it made them feel appreciated that the CEO and General Manager attended.
By Karen Munzel – Host Program Coordinator