Heartfelt Thanks to NYW Team
April 15, 2015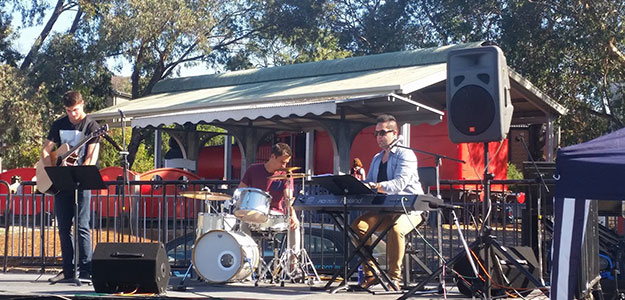 Every year Interchange Outer East applies for a National Youth Week grant and engages with young IOE volunteers to organise a youth festival. The idea of the festival is to promote young people and emphasise the effects of youth mental health. In the past, the highlight of the event has really been the paint fight at the end. Most of the funding that IOE receives usually goes towards getting as much paint as possible, so that everyone can have a wonderful time flinging bright colours at each other.
In 2014 Angela Sipka (youth volunteer) approached the volunteer coordinators and said that she had some great ideas for the 2015 youth festival. This time she wanted it to be bigger than ever before and have a focus on how the whole community can support young people with a variety of mental health needs. She wanted less of a focus on the paint fight and more of a focus on support for everyone, from everyone.
Interchange Outer East applied for two grants, one through Knox Council for $2,000 and one through National Youth week for $2,000. We received both. So it was decided that we would hold the event at a larger public space and to do this we would need to eliminate the paint fight. Knox Council gave us access to Marie Wallace Reserve, in Bayswater; we saw this as being a wonderful public place to attract the crowd size we were after.
Angela then recruited Gillian Andrews, Elise McLelland and Jess Quigley; together the 4 of them became the National Youth Week committee. Each of the girls had roles and jobs to do. Gillian has impeccable phone manners and people skills, so she made contact with many of the speakers, musicians and stall holders and really became the driving force behind the event. Elise has exceptional creative ideas and created many of the activities as well as helping out behind the scenes with the planning. Jess Quigley had many wonderful connections and also lots of great ideas for the event. So with Angie being overseas in Peru, she knew she could rely on the team to get everything organised.
Friday the 10th of April was the big day and at 11am, when the event kicked off, it was obvious that it was going to be a success. There were heaps of volunteers there helping out on stalls, selling merchandise, lollies, raffle tickets, or giving out resources. There was also a fun photo booth for the crowd to dress up and take silly pictures of themselves, these will be posted on Facebook for people to tag themselves in. A lovely family from the area also came along with their tie die stall, selling awesome tie die as well as cool toys for kids.
The music kicked off with Karen & Dush, playing a beautiful acoustic set. Sam from Beyond Blue then spoke to the crowd about his experiences with anxiety, how Beyond Blue helped him through his journey and how others can receive help from Beyond Blue. Steve from Knox Youth Services then spoke to the crowd about his journey and his role as a psychologist at Knox Youth Services. He spoke about the signs to look out for and how families can assist young people going through various mental health concerns. Lance from Love me – Love you spoke about his organisation, how it was created and how they can support young people. Then a whole lot of fun began when Gary Connor, from Disability Sport and Rec Victoria came along and started a game of wheelchair basketball. He taught skills and gave everyone an interesting experience playing basketball while in a wheelchair.  Karen and Dush returned for another beautiful acoustic set, and then Wade, Shane and Marty finished off the day with a selection of popular music for everyone to have a dance to. The sun was out for the whole day and the smiles and laughter could be heard through the reserve. It was a wonderful event and the girls really did outdo themselves.
Now that it's all over they are already talking about how they can make it even bigger and better next year.
We'd like to say a huge THANK YOU to all of the food stalls who came along to support our event on the day. Kurbside Kravings, Babaji's Kitchen, Latte 2 U and 3 Lil Monsters & a Pizza Truck. Also a massive thank you to everyone who volunteered on the day or came to support the event. We would not have been able to run the event without the financial support received through Knox Community Grants Scheme and National Youth Week Grants – so thank you.
by Jess VanArendonk