Having Their Say
February 20, 2014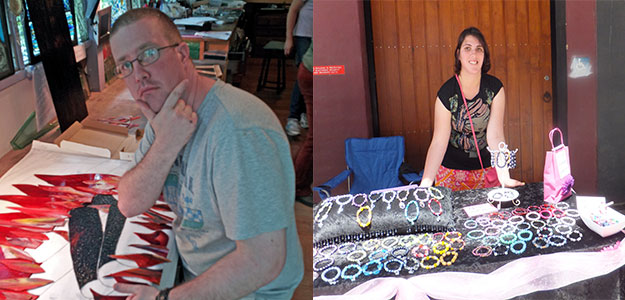 The Having A Say conference is an annual event, run by VALID,  which gives people with disabilities an opportunity to come together to share stories, address issues which affect their lives, celebrate their skills and achievements and contribute towards the planning and running of the conference. It is also a chance to bring issues and concerns to the attention of politicians, government departments and service providers, so contributing to the development of strategies and future directions.
This year, as in previous years,  a group from Interchange Outer East's Balanced Options Service attended the conference which was held in Geelong from February 5 – 7. Two members of the IOE group, Jess Bakker and Gordon Pascoe had been invited to deliver  conference speeches about their lives and their interests.
Gordon is a keen  and talented leadlighter, who has been working at his craft for some years now. He attends a leadlighting studio twice weekly, and uses his funding to take along a support worker  who 'keeps him on track'.  He has produced a range of stunning work from lamps to door panels, mostly for family and friends, although he has also created and sold work on commission.  A slide show of some of Gordon's work accompanied his talk. After his speech, Gordon was approached by members of the audience who inquired as to if, and where, he displays his pieces and if there was also the opportunity for them to learn more about his lead lighting.
Jess spoke on  how she uses her IPad to communicate and included an 'about me' presentation that she showed from her IPad. She outlined how she has individualised some of her group funding enabling her to organise her week so that she is doing those things that she really enjoys. Again using her iPad, Jess told everyone about the business she has started. Jess has her own jewellery business and makes beaded bracelets which she sells through a boutique shop in Rye, plus markets, other community venues and also from her home.  Jess does every part of the business herself,  from choosing beads, creating the designs and making the bracelets to checking on and delivering stock to the shop. It has rightly given her a true sense of self pride and achievement. The local community houses are also an important part of Jess's life and she told conference delegates how she is participating in a number of course , one of the  course highlights being  meeting the famous Chef Kurtis Stone, in a hospitality lesson.
The group – Gordon, Jess, and Laura and Natalie (who went along 'for moral support') – plus staff member Deb Kennedy, thoroughly enjoyed the conference and particularly enjoyed hearing the stories and experiences of all the speakers and the positive feeling they got from just being immersed in the conference vibe.  In was a great experience for Jess and Gordon too, who felt empowered by being able to 'Have Their Say' at the conference.
by Sandra Leehy