Happy International Volunteer Day
December 4, 2013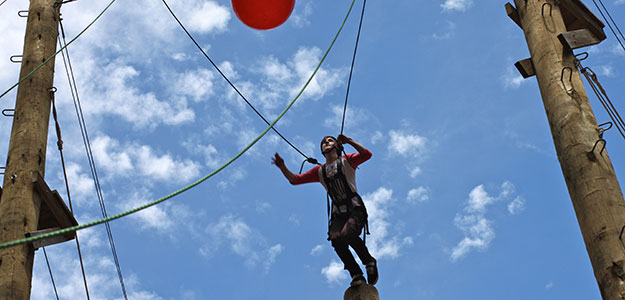 Thursday December 5  is International Day of the Volunteer.  Every year Interchange Outer East likes to show its  volunteers how much they are appreciated by having a special celebration of some sort.  This year we treated volunteers to a day of endurance, team building, and most of all fun!
Gilwell Park Scout Camp was the place to be, and the fantastic high ropes course was the first test of courage for everyone who attended.  Our instructor, Scott, started the morning off with the easier elements and worked us up to testing our courage on the Leap of Faith.
Once we all got our breath back after the terrors of The Leap, we were encouraged to bring out our competitive sides on the Vertical Challenge.  However, as our IOE volunteers and staff are such kind hearted creatures, in typical fashion we chose to support each other to get to the top, rather than compete with each other.
The lunch time BBQ was lovely, and it was great to see staff turn up to show their appreciation for the volunteers.  Everyone enjoyed the food and drink, and loved having a chat and socialising.  After lunch we got involved in some initiative and team building challenges.  You could almost hear the ticking of everyone's brains while they figured out solutions … plus, of course, the sound of lots of laughter!
On behalf of Interchange Outer East, I would like to say a huge thank you to everyone who joined us on the day, and also an extra huge THANK YOU to everyone who has volunteered with us in 2013.
by Jess Van Arendonk