Grants Success Celebration
November 7, 2013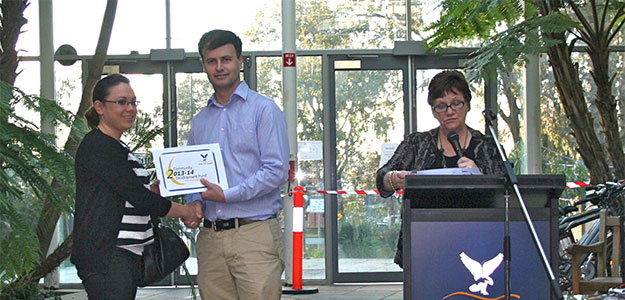 Interchange Outer East's contribution to community development through its projects was recognised at the Knox City Council Community Development Celebration Evening on October 31, 2013.
On the evening 37 local community groups were presented with over $200,000 of funding for projects across local government area of Knox.
Projects from the previous funding round were showcased at the event, including the Bayswater Community Festival, in whose working group Interchange has been involved since its inauguration in 2009. Sports Week, an annual IOE event supported by Knox's Community Development Grants, was another of the projects on display with a large display of eye catching photos and props.
Knox City Council Mayor, Karin Orpen, announced the community groups and projects which had been successful in the current funding round, while Councillor Adam Gill made the cheque presentations. Interchange Outer East Marketing Manager, Rebecca Gallaher, accepted the certificates and cheques for the two successful Interchange projects to be run in 2014. The first was a grant for $5,500 for the 'Connecting Communities Conference' and the next was $2,200 for the annual community event 'Sports Week'.
The funding will help Interchange to provide events for community members. The Interchange Outer East conference on May 14, 2014 is an event that will invite the community to come together, learn, and share ideas. This grant will help fund the expenses of the conference and also be used to encourage attendance by interested community members.
IOE's Sports Week focuses on creating connections between people and local sporting groups. It's a week dedicated to promoting local clubs and offering 'come and try' sessions to encourage community members to try new sports or simply visit their local clubs.
For more information about the Knox Community Development Grants check the Knox Council website www.knox.vic.gov.au
For information on Sports Week or the Interchange Outer East Conference, please contact Interchange on 9758 5522 or email ioe@ioe.org.au
by Rebecca Gallaher