Volunteer Information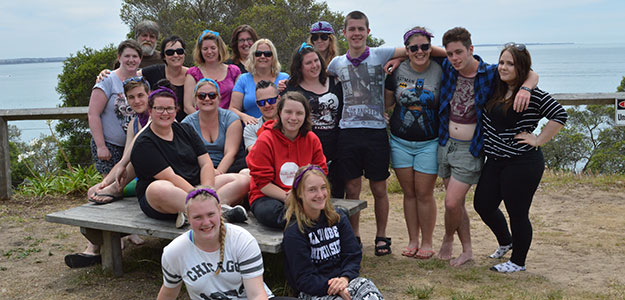 Volunteering with Interchange is a great way of getting involved with others, learning new skills, having plenty of fun and sharing in new experiences. By volunteering with Interchange you'll also be helping to build healthier, happier and more inclusive and caring communities.
Interchange Outer East has volunteering opportunities right across the agency, whether it's supporting, children or adults on camps, activities or other programs, as a part of our hosting program or assisting around the office or on specific projects or tasks … there are a myriad of ways you can be involved.
You don't need to have a lot of knowledge about disability, there are always staff and more experienced volunteers around to support you.
Take a look the volunteering videos on the Video page – hear about the experience of volunteering with Interchange from those who know – current volunteers!
Get involved with our 'Volunteer Roadshow'! Our volunteer coordinators, Bec and Marce, are currently out and about visiting local secondary schools talking to students and staff about volunteering opportunities with IOE. Spread the news. Talk to staff and get your school involved.  Read our 'Latest News' article IOE Volunteer Roadshow to find out more.
Volunteering Extras …
– Interchange Outer East plans 'Volunteer Only' camps and special events to show its volunteers how much they are appreciated
– Volunteers have free access to IOE training and information sessions on a range of topics – a great way to build skills and knowledge.
– Volunteers have their own newsletter, VNews (autumn 2018 enews), with all the latest volunteer news, pics and tips.
– Volunteering experience is great for CVs, references and community service awards.
– Volunteering is an excellent way to gain experience if you are looking at working in the disability area.
– Many volunteers also find casual or permanent work as IOE support workers. Many of our program coordinators and recreation leaders started out as volunteers with IOE.
More Information to download …
VNews autumn 2018 edition
Volunteer Position Description
Volunteer Rights and Responsibilities
Take the next step!  No obligation.
Apply Now