Profiles

Introducing those amazing people who make it all happen on Interchange recreation programs …
Jenny Pain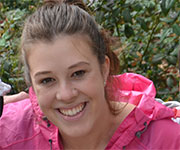 Hi my name is Jenny Pain. I'm 22 years old and have been volunteering with Interchange Outer East since 2011. I heard about Interchange Outer East when I was a student at Mater Christi College and some Interchange volunteers came along to the school to talk about their experiences volunteering on IOE activities and camps. It sounded like something I would enjoy, so shortly after I joined up as recreational volunteer. My hobbies include playing musical instruments, listening to music, exercising and being in the outdoors, cooking and reading. I am involved in Rovers (Scouts), my local CFA.and of course I volunteer at Interchange Outer East
Becoming a volunteer has been a very positive experience. It has led to me to learning about such things as as different communication strategies, which has changed the way I see and interact with people living with a disability. Volunteering with IOE has influenced my career options within the health care field through studying Cert IV in Disability.   I have enjoyed my time with Interchange and have learned many new skills in supporting people with a disability.
Becoming a recreational volunteer has provided me with many new memories, friendships, skills, has increased my confidence, and has contributed to who I am as a person. As a vollie I have been  bike riding, to an AFL game,  Lake Mountain snow days, swimming with the dolphins, surfing with Disability Surfing Australia on a school holiday camp to Grantville, and have just come back from a trip to Central Australia. I have also been involved in IOE's  Knox After School Sports and Woori Yallock After School Program and have just started with the Adults post school program.
I would definitely recommend signing up as a recreational volunteer with Interchange as it is a great way to meet new people, learn new skills and make a difference to people's lives.
Jenny Pain
Jessica Callaway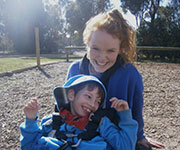 Hi, I'm Jessica Callaway and I am a volunteer at Interchange Outer East.
I heard about volunteering through my older sister Amy, who was volunteering and also doing support work at Interchange. Amy would always come back from camps or activities, telling me all these great stories about everything that she had done. I thought that it sounded like so much fun, that I decided to sign up as a volunteer as soon as I could – which funnily enough was the day after my 14th birthday.
As I didn't have much experience of disability, I was very nervous at first, but with the help of staff and some of the more experienced volunteers, my first day activity was fantastic. Looking back now, I don't know why I was ever that nervous! I have volunteered on many activities and camps since that first day, and have loved every minute of it.
Through volunteering I have learned so many new things and life lessons, and made so many great friends. I actually met my best friend on my first Interchange camp and we are still best friends 4 years later.
I have had so many great opportunities with Interchange, completing my VCAL placement with them, and organizing both National Youth Week festivals in 2012 and 2013, becoming a Support Worker this year, being nominated for the Victoria Day award in 2012 and being one of three volunteers chosen to attend an overseas trip to America also in 2012.
This year I am currently studying my Certificate 2 in Community Services, and next year will be studying my Certificate 3 in Disability at Box Hill TAFE. Without Interchange my life would be very different, and I cannot imagine life without it. Interchange has shaped me for the better, and the participants, volunteers and staff have taught me so much. I am so grateful that I became a volunteer or none of this would have been able to happen and my life would be on a completely different path.
Jessica Callaway
Chiara Munzel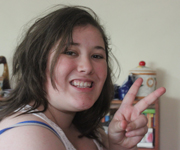 Hi I'm Chiara Munzel. I'm 18 and I've been a rec program vollie now for just over 2 years. I found out about Interchange through my sister Freya, who also volunteers.
When I'm not studying or volunteering I like hanging out with my friends, going to the movies, going to the beach or just chilling – the usual sort of thing. There are so many things I love about being a vollie.
I have made so many friends, overcome so many fears and tried heaps of new things. It has been lovely to meet all these people who are so different, to see us all come together and do something we all love.
How has Volunteering affected my outlook on life? I take more risks, I'm happy to give anything a go and I've learnt that I am capable of far more than I previously thought. Volunteering with kids with disabilities has helped me work out that I want be to a speech therapist – I'm already working with kids with communication difficulties, so I'm getting lots of experience for my chosen career.
There have been lots of memorable experiences but one camp memory that has really stayed with me is of a girl who I first met on family camp in March this year. Then she wasn't able to stand at all. And now she can walk !  These kids are incredible.
Why do I think other people should volunteer for Interchange? Well, it is an awesome experience and you get to try new things.
Final Words: Volunteer now become a part of our community.
Chiara Munzel
Sam Brown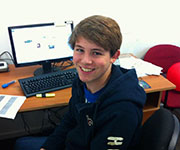 Hi, I'm Sam and came from England on my summer holiday, during which I spent time volunteering with Interchange Outer East. My uncle who lives in Melbourne, helped me find out about Interchange and we both thought that it would be a great way for me to have fun, see more of Victoria and gain valuable experience, spending time with the awesome kids here at Interchange.
I left England on the 4th July, arrived in the Australia on 7th and met with Jess the following day, sorting out my place on the holiday camp two days later. The camp was at Cave Hill Creek, and my match for the camp was Ethan who was such great fun! We had a great time doing all the activities together and at night I joined in all the games, fun and friendship with the other vollies. All the staff and volunteers made me feel very welcome. I was so sad to leave camp and would have loved to have stayed even longer.
However, 2 weeks later I was lucky enough to go on another camp, Briars at Mt Martha. My match, Liam, was such an amazing kid, and we enjoyed running around, bowling and going to a farm together. Again I was made welcome and met volunteers who I knew from the previous camp.
I got a chance to see how Interchange works from a different point of view, a couple of days later, as I was invited to help out in the office and spend some time with the adults at Balance Enterprise. We did garden maintenance, played football and generally had a great time.
Overall my experience with Interchange was one of the greatest in my life. It was definitely worth spending a few days out of my holiday, in order to help others. I enjoyed my time so much that I have already started searching for similar groups near where I live in England. I have gained so much out of my volunteering experience, it has made me both more confident and competent at caring for others, and I have also learned so much about disabilities. I love the country and would be thrilled to visit again, and I would most definitely come and volunteer again if I get the opportunity to do so.
Sam Brown
Elise McLelland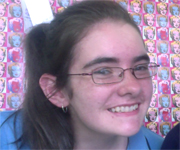 I first found out about Interchange when the Volunteer Coordinators visited our school and told us about all the fun and adventure to be had on activities and camps as a vollie. It sounded like great fun and I have been volunteering for a couple of years now.
I'm very sporty and always looking for adventure! When I'm not volunteering, I like to battle it out on the basketball courts, kick around a soccer ball, go climbing in the trees, canoeing, bike riding, and many more exhilarating activities! I'll pretty much give anything a go, just for the thrill seeking excitement! I love to laugh and smile, and make the most out of life! Every time you see me, I can guarantee that I will either be laughing at the top of my lungs, or smiling so big that my jaws begin to hurt!
Volunteering with Interchange has opened my eyes to the world of disability. It's allowed me to see another side of life. Very often you return from a camp or even a day activity absolutely exhausted! It makes you realise how exhausted parents and carers would be, looking after their kids for 24 hours! The parents are over the moon, for you just spending one day with their child. Its times like these when you gain so much more respect for families!
Being an Interchange Volunteer has given me a sense of achievement knowing that I'm making a difference. I love sharing the funny memories with the other vollies!! I have made so many friends through Interchange who I know always will be lifelong friends. We can spend a whole day, weekend or even a week together on activities, come back home and still spend hours talking and reminiscing.
What is a funny story from camp? Well, on my very first camp I met the sibling of a girl who went to my school. Not realizing they were sisters, I simply said to her "you know, you look a lot like a girl who goes to my school", she said "yeah, that's because she's my sister!" and everyone laughed hysterically at me. Now, that was funny.
Interchange has changed my direction in life. My dream is to become a kindergarten teacher. I still want to continue on this path but now I've widened my options to maybe becoming an early childhood teacher for children with disabilities.
I'd really recommend volunteering with Interchange to others, because it's a great achievement in life. It's given me a sense of happiness knowing that I wasn't only making a positive difference in my own life, but also to the lives of others.
Final Words: Sign up, it could change your whole life, like it did mine.
Elise McLelland