Donate

Disability affects not only the individual but impacts on every family member.
By donating to IOE you'll be helping to provide camps and activities for children and young people with disabilities.  PLUS dedicated recreational, social and respite programs for siblings, mums, dads and families as a whole. Our programs are fun, diverse, innovative. and are created in response to individuals' and families' needs and wishes. Every program and activity is supported by passionate staff and volunteers. Our Family Support programs receive no ongoing funding.
Interchange Outer East is all about Creating Opportunities and Choice.  Opportunities for friendship, support, new experiences and fun. Opportunities not available elsewhere.  And the choice of how families want these opportunities delivered.
The IOE community calls us family! DONATE TODAY and become a part of our family!  Make a Donation
Interchange Outer East is a Deductible Gift Recipient and any donations over $2 are tax deductible.
There are many ways you can donate to IOE – all equally appreciated. Single/Once Off Donation What a gift! Your donation will allow us to bring about life-changing opportunities to so many famil...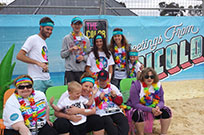 Fundraise for IOE Fundraise today, and your donation could fund a new volunteer, a family at camp, a program or a specific event. Organise your own fundraiser: Run or walk individually or as part of a...