Friends of IOE Initiative Launched
April 9, 2014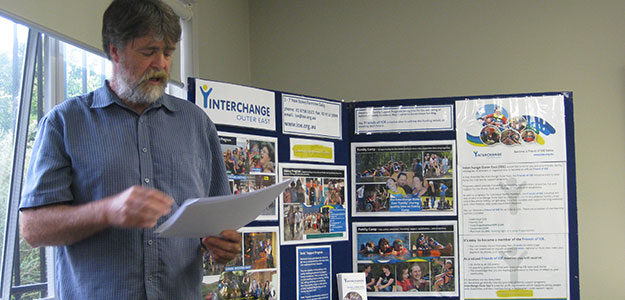 Interchange Outer East's Friends of IOE initiative is now up and running, having been officially launched today, Wednesday 9 April 2014.
The Friends initiative aims to raise funds to support IOE's important Family Support Programs, including the Communication Program and Behaviour Management Program, none of which receive any government funding.
Around 30 people attended the launch, including Nick Wakeling MP, Member for Ferntree Gully and Minister for Higher Education and Skills, and Keith Thornton from Freemasons, who have been generously supporting the IOE Sibling Program for the past five years. They were joined by members of the IOE board, family members and staff.
Stephen Mazey,  pastor of the Hills Church, took advantage of the launch gathering to present Interchange Outer East with a cheque for $1000 from accrued profits from their Ferntree Gully opportunity shop. This was gratefully accepted and will be put to good use in the provision of Interchange programs.
After welcoming those in attendance, CEO Fred Brumhead spoke of the importance for IOE to focus on the family – all family members not just the person with a disability.
"The longest and most secure relationship people have is usually with their families" said Mr Brumhead. "Families can best support their own when they have the tools, resources and assistance needed. The best support for families often comes from other families who understand what it is like to live with disability.  It is essential that IOE continues to provide those opportunities for families to feel accepted and that we provide opportunities that nurture each individual, treating them as an important individual, allowing them time to form friendships, have time out and have fun."
"Over the years we have developed a range of services, including activities and camps for mums, dads, siblings and families as a whole and other innovative camps for family members. With no government funding for the past twenty years, these family services have been operating through a mixture of cost savings, once off grants and fundraising. Unfortunately these channels are becoming increasingly difficult to access. To ensure their future and hopefully to deliver additional services we need secure funding."
"That's why the Friends of IOE is needed now  – to ensure these opportunities remain available into the future." said Mr Brumhead.
Interchange Outer East encourages everyone to read more about the Friends of IOE program by visiting http://www.ioe.org.au/get-involved/friends-of-ioe and looks forward to welcoming many new Friends to the IOE family.
by Sandra Leehy