Freemasons Keep On Giving
November 24, 2016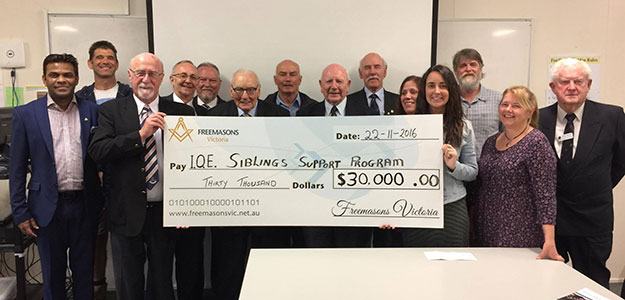 The partnership between Interchange Outer East and Freemasons Victoria is now its eighth year and continues to grow in strength. The level of generosity the Freemasons have shown to IOE's Siblings Program also continues to grow, with their donation for the running of the program in 2017, matching the $30,000 of the previous year. This takes the total of their support to $160,000!  Without the continued generosity of the Freemasons, this valuable program, which receives no other funding, would be unable to run.
Freemasons members are becoming frequent visitors to Interchange Outer East premises, chatting to program staff and listening to the latest Siblings Program news over cups of tea and sandwiches at various 'thank you' morning teas and cheque presentations.
The most recent morning tea on 22 November was a special occasion. Firstly, a cheque for $30,000 was presented to IOE which was accepted on the organisation's behalf by Jenna Tatterson, Siblings Program Coordinator.  Next the services of long term Freemasons member Keith Thornton were recognised with the presentation of an award for his tireless dedication and hard work with Freemasons and his ongoing support of the IOE Siblings Program.
IOE had a presentation of its own to make.  A beautiful hardwood chopping board, handmade by IOE parent Vincent Lazzari, and engraved with an inscription celebrating eight years of Freemasons support of IOE siblings.
We look forward to further strengthening this partnership over the coming years and extend our gratitude to Freemasons Victoria and Freemasons Monash Gully Branch, on behalf of the many siblings who have benefited so much from being part of the Sibling Support Program.
by Sandra Leehy