Freemasons Increases Support
February 25, 2014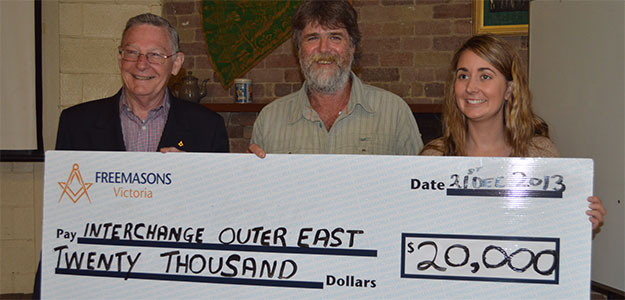 Interchange Outer East celebrated a great end of  year with another generous donation and continued support from Freemasons Victoria.
At the IOE 2013 Christmas party, Freemasons Victoria Monash Gully district announced their plan to increase their already generous contribution for 2013 – 2014, presenting a cheque for $20,000 to fund the IOE Siblings Program, a program that they have wholeheartedly supported for the past four years.
The Christmas party was held on Saturday December 21 at the beautiful Mt Morton campsite in Belgrave South. During the formalities of the day, everyone who'd been a part of the siblings program since its creation was asked stand on the stage – it was incredible to see the group of people from across different generations who had been supported through the IOE Siblings Program over the years!
Lionel May, District Co-Ordinator, Freemasons Victoria Monash Gully District then presented the Siblings Program coordinator, Jenna Tatterson, with a cheque for $20,000 – an increase of $5,000 to their donations in previous years. This commitment highlights that Freemasons Victoria sees the value in the growth of the IOE Siblings Program and in the work of the agency as a whole.
Speaking about the continued support from Freemasons Victoria, Jenna Tatterson said "The Sibling Program has become a BIG part of families' lives. It has helped the children understand that they are not alone and that other young people deal with the same things they do. We aim to create a safe and carefree environment where everyone can be themselves and where everyone understands what each other is going through! They also are aware now that IOE is not just a place for their sibling, but for them too!! Thank you Freemasons – we could not do this without you." 
Once again, Interchange Outer East would like to sincerely thank Freemasons Victoria for their continued commitment and support of this invaluable program.
by Faye Lougheed