Freemasons Gala Fundraiser
July 20, 2016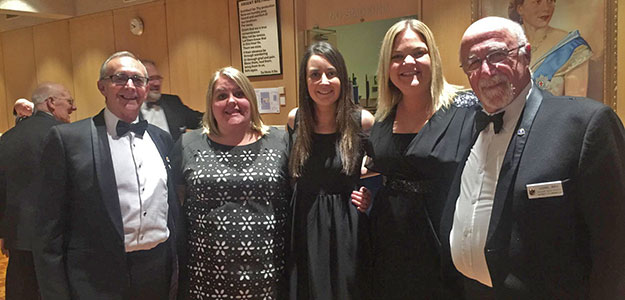 Freemasons have been supporting Interchange Outer East's Sibling Support Program now for over six years. During that time the organisation, in particular the Freemasons Monash Gully Branch, have contributed a total of $130,000 to fund the Siblings Program.
Last night, Tuesday 19th July, Freemasons Henty Lodge presented a District Gala Charity Night at the Waverley Masonic Centre to raise money for the Monash Gully District Charity, with the Interchange Outer East Siblings Program as the beneficiary.
The gala night had a winter theme with a delicious hot roast buffet, an auction to add an additional fund raising element, and a floor show for entertainment by Australia's reigning Latin American ballroom champions, Darol & Yvette.
The evening was attended by Interchange Outer East Siblings Program Coordinator, Jenna Tatterson and program staff Laura West and Ashleigh Goodall.
Jenna commented 'It was a very successful evening which gave us the opportunity to meet and mingle with Freemasons from different lodges and talk to them about the Siblings Program. Most importantly we were able to express our gratitude for, and appreciation of, the work that the Freemasons do to support the Interchange Outer East Siblings Program. Without their support we would not be able to run such a fantastic program that we are so passionate about.'
The Siblings Program aims to provide opportunities for the siblings of children with a disability to meet other children in similar situations. Siblings are able to see and learn that they are not alone and that they are free to be themselves and celebrate their individuality and value.
While the program is all about having FUN, it also allows siblings to learn about disability and integration in a relaxed and supportive environment. Children are free to openly discuss the positive and negative aspects of being a sibling to a child with a disability.
The program receives no government funding and has been reliant on Freemasons support for its continuation.
by Sandra Leehy