Freemasons Fund Siblings for 2016
November 11, 2015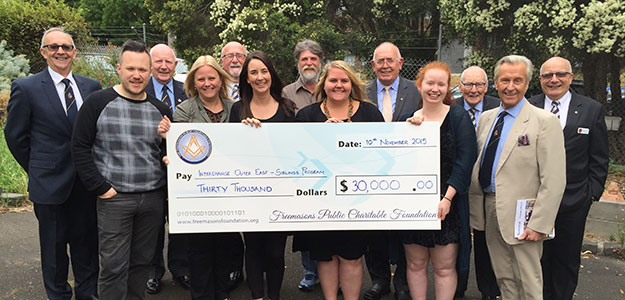 On Tuesday November 10, Interchange Outer East was again delighted to host a morning tea for members of the Freemasons Monash Gully branch who have continued to support the IOE Sibling Program.
The highlight of the morning tea was the presentation, by Freemasons Monash Gully, of a cheque for $30,000 to further fund the Sibling Program for the coming year. This extremely generous donation takes the total amount of funding they have contributed to date to $130,000!
During the morning tea Jenna Tatterson, Sibling Program Coordinator, updated Freemason members on what has been happening with the program and told how she continues to get feedback from siblings and families on how much the program means to them. The funding from Freemasons has allowed IOE to continue running group sessions, activities and camps for the various age groups over the past term.
IOE presented the members with a copy of the 2014-2015 Annual Report, plus a memento photo book of photos taken on sibling activities during the year. They also took away a number of information sheets and brochures to further publicise the program to other branches of their organisation.
Freemasons members once again praised the good work Interchange Outer East is doing through the Sibling Program and reiterated that they were delighted to be associated with a program and an organisation that make such a positive difference for others.
by Sandra Leehy