Family Day Fun
December 15, 2016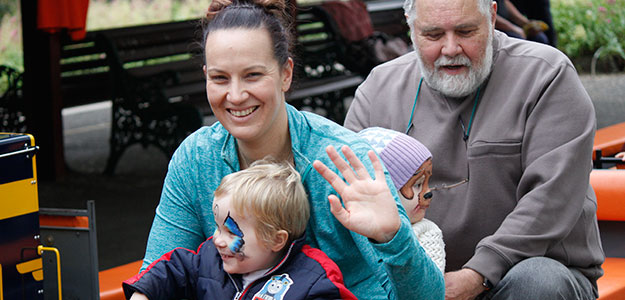 Now that the Parent Support Network's (PSN) program has become a part of Interchange Outer East, their recent Family Fun Day held on 27 November at Box Hill Miniature Railway is set to become an annual event on the IOE calendar.
The event had its origins ten years ago, when the Rotary Club of Balwyn was planning to undertake a project to organise an annual free fun day for children with disabilities, their siblings and parents. Rotary was looking to connect with an already established organisation, through which they could run the project. The Parent Support Network was an obvious choice as, at the time, it was actively involved with supporting around 900 families of children with disabilities.
It was decided that the Box Hill Miniature Steam Railway would be an ideal venue. The Railway agreed to provide the site free of charge and it has been 'home' to the event t since the initial Family Fun Day in December 2007.
The Rotary Club of Balwyn has continued to support the day, both financially and through its members volunteering to cook sausages and being involved in the organisation and running of the event.
This year's event was, as always, a real family day with free train rides all day, BBQ, animal farm, jumping castle, Santa Claus, face painting, Mr Twist the wonderful magician and balloon artist plus much more. It is always well attended and over 500 families came along to join in the fun and activities. All the children were given a show bag filled with goodies, donated to Balwyn Rotary by local businesses. The proceeds of this year's raffle will go towards funding IOE's family support programs.
Frances Gammino, former PSN and current Family Support worker at IOE reported "A highlight of the day is always seeing the joy on everyone's faces, there are smiles everywhere. It is so heartening to see families enjoying a free day out together in such a supportive and welcoming environment. We've already started planning next year's event, as organising raffle prizes and securing bookings for activities and entertainers is a long process. Plus we need to assess how the last event went so we can continue to improve the experience."
Thank you to all those businesses and individuals who donated goods, vouchers and food and to everyone who contributed towards activities and entertainment on the day. Thank you to the Balwyn Rotary members, the Box Hill Miniature Railway volunteers and all the staff and families from IOE who helped to make the day such a success.
Thank you to all our supporters.
by Sandra Leehy